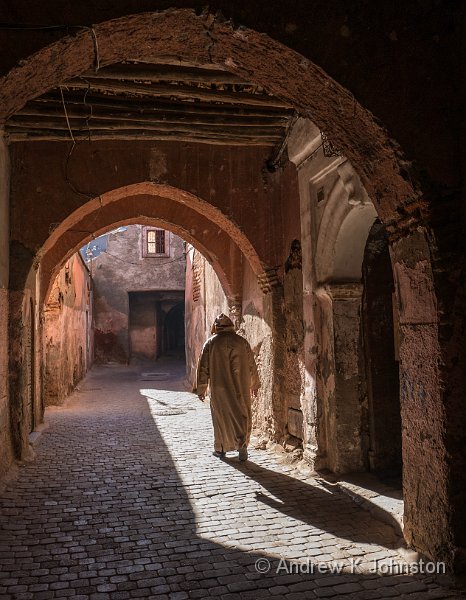 Camera: Panasonic DMC-GX7 | Date: 11-11-2013 09:25 | Resolution: 2528 x 3256 | ISO: 200 | Exp. bias: 0 EV | Exp. Time: 1/160s | Aperture: 5.0 | Focal Length: 12.0mm (~24.0mm) | Lens: OLYMPUS M.12mm F2.0
Well not me, obviously! 🙂 Mind you, our guide for our second day in Marrakech, Mohammed, was even more generously padded than yours truly, so maybe it's not the barrier you might think. Within half an hour we had him hiding in doorways, walking in the light, walking in the shadows… He pointed out that when he got out of bed he wasn't expecting to take up modelling – we pointed out that now he's a model he can refuse to get out of bed at all!
With Mohammed to find the way, we had a very enjoyable day wandering through the souks. From outside you don't realise just how large an area they cover, or how many specialisms are represented. There is, for example, a souk just dedicated to slippers, or another to lamps. The best are those where the artisans are practicing their craft, like the metalworkers. For a small donation they will weld and grind while you photograph, so hopefully I have some shots with interesting showers of sparks.
Morning coffee was in a charming dar, a traditional guest house built around a central courtyard with a water feature. (A riad is similar but larger and has a garden.) The idea is that these are "like paradise", and photographically this one certainly delivered. The steep walls were covered in intricate carvings, and in addition the owner was using it as a gallery of modern art.
The afternoon was full of more souks, topped by watching the sun go down over the main square and photographing the increasing bustle by the light of the stalls.