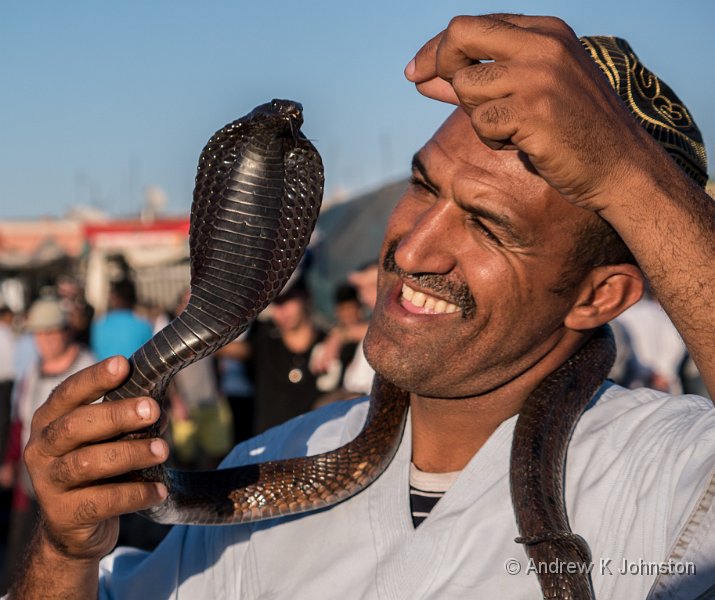 Camera: Panasonic DMC-GX7 | Date: 12-11-2013 16:41 | Resolution: 3653 x 3064 | ISO: 200 | Exp. bias: 0 EV | Exp. Time: 1/640s | Aperture: 5.6 | Focal Length: 45.0mm (~93.0mm) | Lens: LUMIX G VARIO PZ 45-175/F4.0-5.6
I'm falling behind a bit with my blog, not for any technical reason, but simply because the days of this trip are so packed they leave little time for anything except sleep.
Day three was also spent in Marrakech. We started by returning to some of the more "active" souks, hoping to re-create some shots of the dyers from one of Lee's previous trips. Unfortunately the key players were initially not ready, and then various other people got involved trying to arrange themselves a cut of the fee, and in the end we walked away. To compensate we then found another beautifully lit alleyway, and terrorised the locals for half an hour photographing the comings and goings. After that we found a willing water seller who was remarkably tolerant as we photographed himself every way we could think of.
The middle of the day was spent at the Majorelle Gardens, founded by a famous 19th century artist and rescued in the 20th by Yves St Laurent. These are beautiful, calm tropical gardens full of charming yellow and blue buildings and pottery. Very pleasant – a perfect antidote to the bustle of the Medina.
After a leisurely lunch we headed back to the centre to photograph the main Kotubia Mosque, and then some very entertaining snake charmers.
The only problem with photographing people in Morocco, and we experienced it three times that day, is that there's no concept of a fixed or "fair" price, and there is always an awkward haggling session at the end of the interaction, where the subjects demand an excessive fee, while we try and offer something which while modest by British standards frequently represents an average Moroccan daily wage.
It's the same if you want to buy something, and you rapidly long for fixed, advertised prices!
However, while this may be unpleasant, it does seem to be very much part of the culture, and a small price to pay for such magical photographic opportunities. Now I just need to stop making eye contact with the vendors…