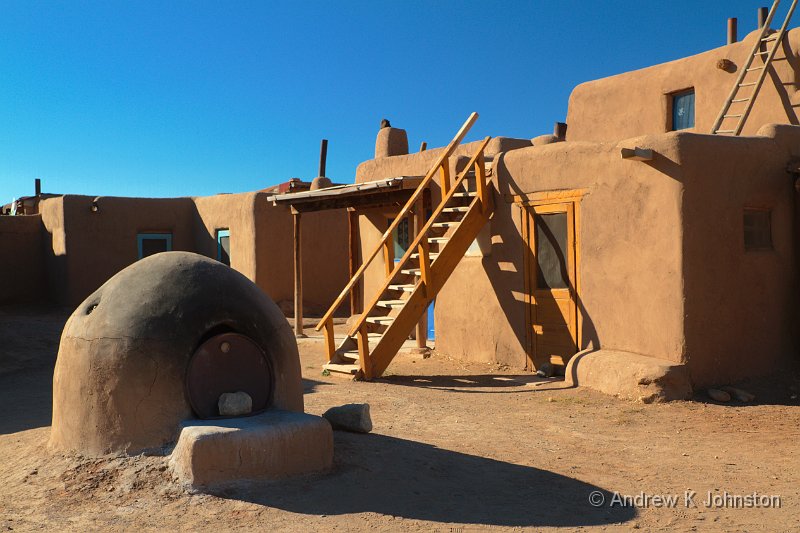 Camera: Canon EOS 7D | Lens: EF-S15-85mm f/3.5-5.6 IS USM | Date: 10-10-2012 15:56 | ISO: 100 | Exp. bias: 0 EV | Exp. Time: 1/50s | Aperture: 10.0 | Focal Length: 24.0mm (~38.9mm) | Lens: Canon EF-S 15-85mm f3.5-5.6 IS USM
Day 11
Up at dawn to try and get golden hour light on the dunes – they are in shadow themselves in the evening. Lodge has world's most powerful tap in world's smallest basin. Oh well…
Irish contingent dressed in balaclava got it right – photography OK but it was bloody cold! However it does have to be admitted that walking on sand-dunes at 8,000 ft is not ideal exercise for an overweight bloke with dodgy knees.
Boring drive down to Taos, but the town and especially the Indian Pueblo really make up for it. The Pueblo is still lived in, but they also allow visitors and photography for personal use.
Nice dinner at Taos' posh fine dining restaurant.
Note re Fonda Hotel Taos – to double size of room simply remove 4 super-sized leopard print cushions and 6 spare pillows!
Photography 8/10
Food 8/10
Large animal count 26 (by 10 am)