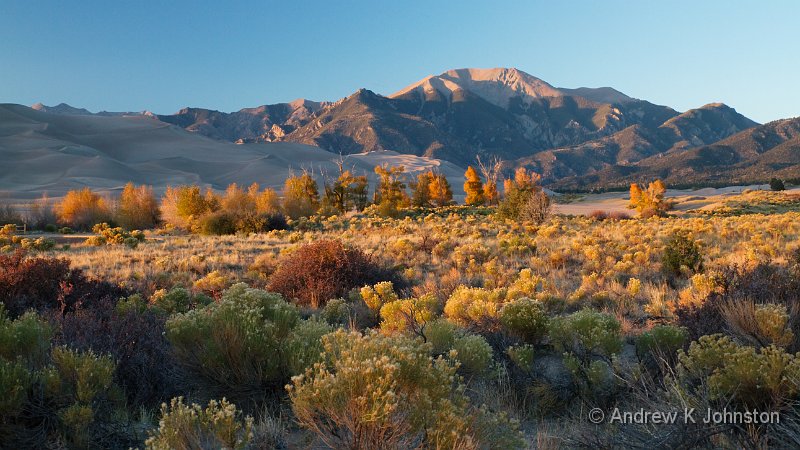 Camera: Canon EOS 7D | Lens: EF-S15-85mm f/3.5-5.6 IS USM | Date: 09-10-2012 18:13 | ISO: 400 | Exp. bias: 0 EV | Exp. Time: 1/30s | Aperture: 9.0 | Focal Length: 31.0mm (~50.2mm) | Lens: Canon EF-S 15-85mm f3.5-5.6 IS USM
Day 10
Drove East from Durango through the Rockies. Another almost 11,000 ft pass, but roads not as interesting as yesterday . At coffee stop we were almost forced to purchase two enormous slices of pie, of which more later.
We ended up at the Great Sand Dunes National Park. This is an amazing enclave of 40 square miles of full-on Arabian sand dunes, right in the middle of the Rockies. It's pure photographic gold, with aforesaid sand dunes, mountains, trees in fall colour, dramatic dead trees and very much alive deer available in all required combinations.
Food slightly more of a challenge as the only eatery for about 30 miles has closed for the season. However sub sandwiches from the shop were not too bad, and aforementioned coconut and peach pies turned out to be absolutely superb, rescuing us from potential 3/10 danger.
Early start tomorrow to catch dawn on the dunes.
Photography 9/10
Food 7/10
Large animal count 20+