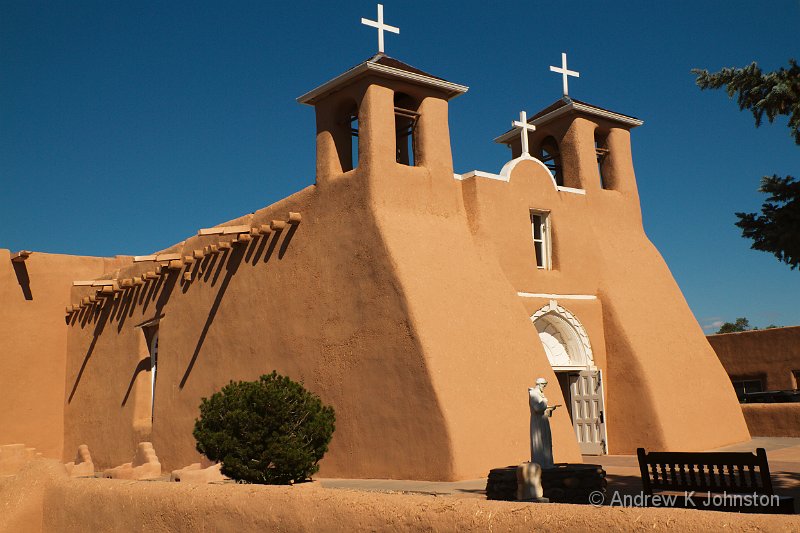 Camera: Canon EOS 7D | Lens: EF-S15-85mm f/3.5-5.6 IS USM | Date: 11-10-2012 11:49 | ISO: 100 | Exp. bias: 0 EV | Exp. Time: 1/160s | Aperture: 11.0 | Focal Length: 24.0mm (~38.9mm) | Lens: Canon EF-S 15-85mm f3.5-5.6 IS USM
Day 12
Looking for hairdryer in Taos hotel found secret stash of MORE pillows!!!
After a couple of hours browsing in Taos we set off for Santa Fe via the famous "High Road to Taos". First stop, the church of San Francisco di Asis in Ranchos do Taos. This is just as pretty as in the photos of Ansel Adams and Georgia O'Keefe, a natural target for artists of all persuasions.
The drive along the High Road was very enjoyable in bright sunshine. However our lunch target of Truchas turned out to be a bit disappointing with about 50 art galleries and no diner. The next town down the road, Chimayo, is only slightly better. They say that "man cannot live by bread alone", but "art alone" doesn't do it for me either.
We were also rather disappointed by a sign to "watch for roadside activity", but apparently the artists can't stretch to a bit of performance art.
The Santuario de Chimayo is a bit odd. At the risk of being slightly offensive the term "Catholic Voodoo" came to mind. I suspect this is best reserved for devout Catholics, but left us feeling a bit uncomfortable.
We also managed a quick stop in Santa Fe, but the historic centre is very busy and very expensive, and a bit of an anti-climax after the much more accessible towns we'd visited earlier.
Photography 7/10
Shopping 5/10
No large animals, despite promising "Elk Crossing" signs…