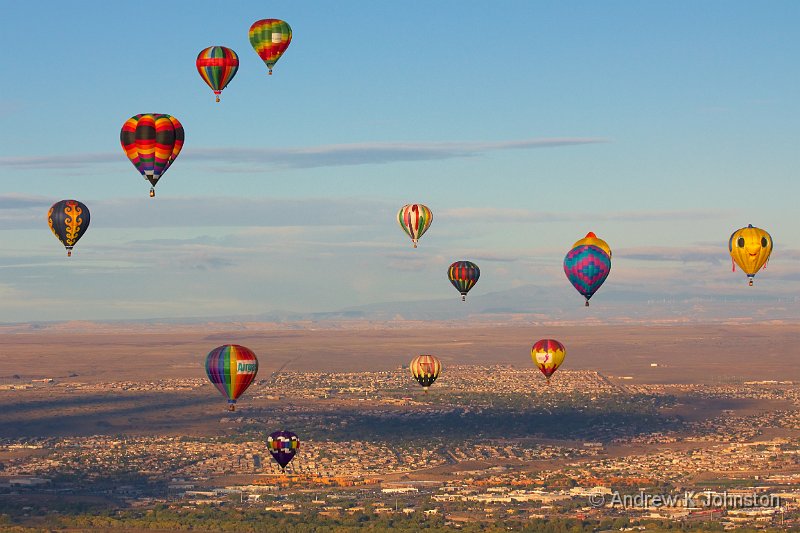 Camera: Canon EOS 550D | Lens: EF70-300mm f/4-5.6 IS USM | Date: 13-10-2012 07:45 | ISO: 200 | Exp. bias: 0 EV | Exp. Time: 1/640s | Aperture: 8.0 | Focal Length: 80.0mm (~129.6mm) | Lens: Canon EF 70-300mm f/4-5.6 IS USM
Day 13
4.30 start for the Balloon Fiesta! Sleep punctuated by police sirens (understandable in a large city) and train whistles (nope).
We'd just got settled at the park, and Albuquerque had the most dramatic thunderstorm. Balloons and wind don't mix well, and lightning and propane are worse. No ballooning today. Fingers crossed for tomorrow.
Went to see Taken 2 in the afternoon – great film, but shades of wet holidays in Brighton.
To compensate for lack of balloons, had dinner at posh restaurant including Saganaki, a Greek dish which involves pouring Bacardi over Kasseri cheese and setting fire to it at the table. Excellent.
Photography 0/10
Ballooning 0/10
Shopping 2/10 (had to buy a case for all the other shopping)
Food 8/10
Day 14
Finally, the weather was in our favour, and today was a great success. Our balloon flight got airborne as part of the "mass ascension". At the risk of using tired superlatives this was simply magical. I have done balloon flights before, and they are always fun, but nothing can compare with being part of over 500 hot air balloons lifting off together.
The Albuquerque setting is wonderful, with mountains and desert around as well as the town and river below you, and the photography opportunities were almost unlimited. The other great thing about Albuquerque is that when you land the locals all know the drill and are only too keen to help.
We have, however, discovered the nadir of New Mexican cuisine. The donut burger is a four-layered concoction of donut, burger, cheese and another donut. Neither of us was brave enough to try one.
Come the evening, come the evening glow, where the balloons are all inflated on the ground and lit from within using their burners, with a moderate degree of synchronisation. We were also entertained by a very good rock covers band, and the evening was capped off by an excellent firework display which had all 100,000 attendees ooh-ing and ah-ing like children.
We were impressed by the traffic management coming out, the Albuquerque police using all available roads inventively and getting us from car park to the other side of the city in 25 minutes.
Balloons 11/10
Photography 9/10
Food 4/10