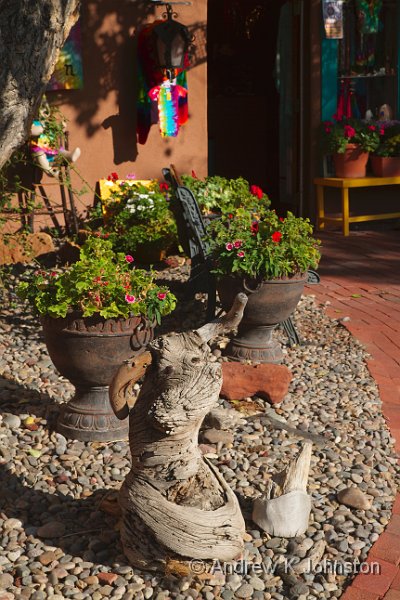 Camera: Canon EOS 7D | Lens: EF-S15-85mm f/3.5-5.6 IS USM | Date: 01-10-2012 16:33 | ISO: 100 | Exp. bias: -2/3 EV | Exp. Time: 1/200s | Aperture: 8.0 | Focal Length: 50.0mm (~81.0mm) | Lens: Canon EF-S 15-85mm f3.5-5.6 IS USM
For 2012 we decided on a return to the American Southwest, but following a more easterly route exploring Northern New Mexico and Southern Colorado, ending up at the Albuquerque Balloon Fiesta. Once again our main guide was Laurent Martres' excellent Photographing the Southwest, this time volume 3 which covers our target states. This is how we got on…
Day 1
23 hours travelling from home to Albuquerque. However, apart from a short delay at Dallas before the second leg of the flight everything worked fine. Seats remained firmly attached to plane, which apparently is not guaranteed with American Airlines, but food moderately disgusting.
Got through US immigration with only a few minutes wait, although it would have been different if we hadn't found out about the new visa system two days before flying! Customs confiscated ham sandwich, and biscuits set off wheat detector, but they were very good about it…
The Albuquerque freeway is very complicated, with effectively 7 lanes each way past hotel, but we got in on second attempt.
Hotel very comfortable, food and beer at brewery next door fine.
Travel 7/10
Food 5/10
Photography 0/10
Day 2
Awake at 5! By 9.15 were at the mall ready to start shopping, but nothing open before 10, even coffee shops! Local McDonalds doing roaring trade in coffee…
Morning spent on practical shopping and other initiation rites, then moved to much more photogenic Albuquerque historic area for lunch and browsing old buildings and multiple arty shops. Some good photo opportunities, but a bit limited by parked vehicles and harsh lighting.
At dinner had to prove my age, but apparently only the expiry date of my ID is important!
Shopping 9/10
Photography 3/10
Food 7/10