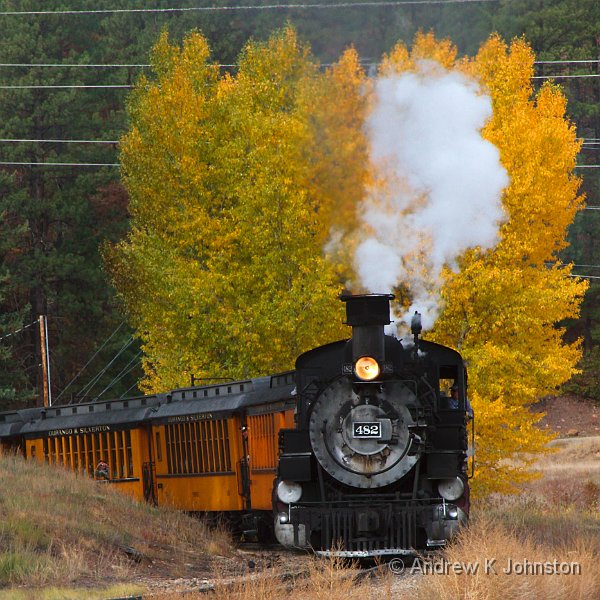 Camera: Canon EOS 7D | Lens: EF-S15-85mm f/3.5-5.6 IS USM | Date: 08-10-2012 09:42 | ISO: 200 | Exp. bias: 0 EV | Exp. Time: 1/250s | Aperture: 8.0 | Focal Length: 85.0mm (~137.7mm) | Location: Durango Fire and Rescue Authorit | State/Province: Colorado | See map | Lens: Canon EF-S 15-85mm f3.5-5.6 IS USM
Day 9
A very pretty steam train runs from Durango up to the mountain mining town of Silverton, 50 miles and 3,000 vertical feet away. You can spend a pleasant day on the return train trip, but the problem is that you won't actually get any pictures of the train when you're on it. We decided on a different approach, and drove to meet the trains, first at a point where the track crosses the road, and then at Silverton itself.
This worked brilliantly. We caught each of the two daily trains at each location, with the puffing loco and orange rolling stock pictured against Colorado Fall colours and the old buildings of Silverton.
The town is itself a great find – very photogenic with lots of fun shops housed in buildings which date back to the late 1800s, but clearly a community which "works" rather than slowly dying like other ghost towns.
Nice Elk burger for lunch, and a great drive over an 11,000 ft pass to get back to Durango.
Dinner in Diamond Belles Wild West Saloon. The food was fine and the costumed floozies both decorative and effective waitresses, but the vaunted gunfight was a bit of a washout.
Photography 7/10
Shopping 7/10
Food 7/10
Large animals 2