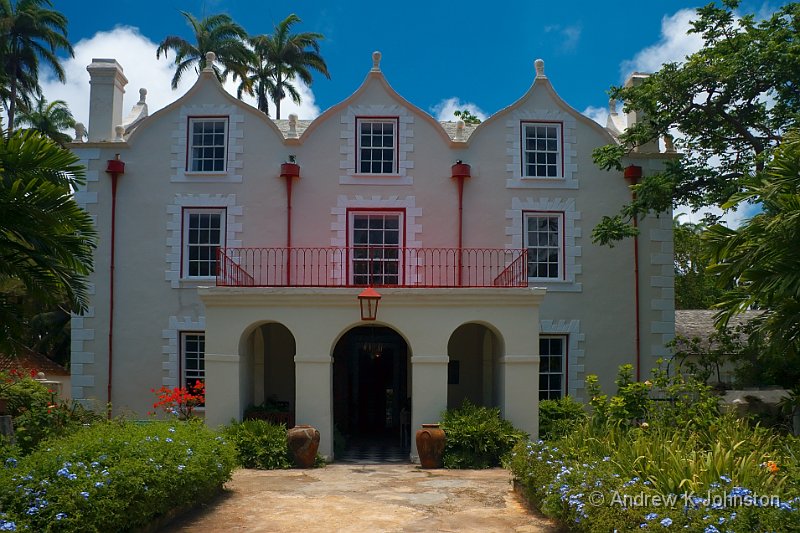 Camera: Canon EOS 40D | Lens: EF-S17-85mm f/4-5.6 IS USM | Date: 20-04-2010 17:16 | ISO: 200 | Exp. bias: -2/3 EV | Exp. Time: 1/125s | Aperture: 11.0 | Focal Length: 17.0mm (~27.6mm) | Lens: Canon EF-S 17-85mm f4-5.6 IS USM
As my "photographic eye" develops, I find I'm noticing much more readily the colour of light, and how it can be modified by things both inside and outside the scene. This shot of St. Nicholas Abbey on Barbados is an interesting case in point. The porch has a flat roof, and that flat roof is obviously painted red to match the railings and guttering. We can't see it directly, but its effects are very dramatic. I've boosted the colour saturation slightly to make this work on the web, but only slightly – the pink glow was immediately obvious as we looked back to take this shot.
St. Nicholas Abbey, despite its name, was never an Abbey, but a plantation house. It's recently been revived, and sits at the hub of a busy farming and rum distilling business. It's also an interesting example of the challenges of architectural re-use. It was built from a set of plans developed and used for a similar manor house in England. These were faithfully followed, including all the fireplaces and chimneys. In nearly 400 years Barbados has never had a day cold enough for any of the fires to be lit!
In Agile development, the mantra is that you don't build features you don't need, but I've rarely seen a discussion on what to do if those features come "free with the design". Re-using an established design has significant benefits, particularly if the architectural effort comes at a significant cost (which was obviously the driver for the decision about St. Nicholas Abbey). Tailoring that design to omit features you don't need will have a cost, and a risk that by doing so you break some other capability. For example, chimneys tend to be built very strongly, and often have an important structural role in a building. On the other hand, building features which won't be used is also costly. If you can't find exactly the right design pattern, you will have an interesting decision – whether to change it, or whether to follow it regardless.