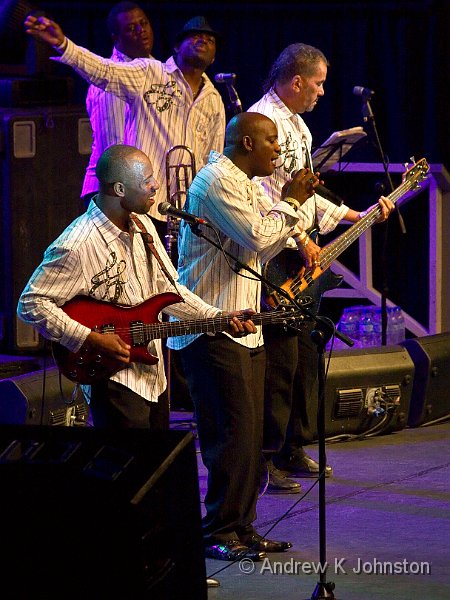 Camera: Canon EOS 40D | Lens: EF70-300mm f/4-5.6 IS USM | Date: 24-04-2010 03:38 | ISO: 3200 | Exp. bias: -1 EV | Exp. Time: 1/100s | Aperture: 6.3 | Focal Length: 190.0mm (~308.1mm) | Lens: Canon EF 70-300mm f/4-5.6 IS USM
As followers of my photography will know, one of my pet subjects is indoor entertainment, photographed by available light. I like capturing memories of enjoyable events, I love the colours of interesting stage lighting, and I like the challenge of trying to capture some of the dynamic nature of a music or dance event in a static image.
By its very nature, this means working handheld in low light levels, typically with long lenses, which in turn means a genuine need for high ISO settings. Even if I can hand-hold my favourite 300mm lens at a shutter speed of 1/25s (which I can, just about, on a good day, thanks to Canon's excellent image stabilisation technology), 1/25s of a second is just too slow to freeze moving performers. I have several pictures with nicely sharp backgrounds and blurry main subjects to prove this.
With my earlier DSLRs, ISO 800 was about the fastest speed which would deliver a usable image, and that in turn meant speeds of around 1/25s with my preferred lenses. By comparison, my newer Canons should theoretically be usable up to around ISO 3200, giving me a reasonable 1/100s shutter speed, but up until now I've always found the resulting images to be just too noisy.
However, I've finally found a combination of sharpening and noise reduction techniques which works, and I can do it entirely in Bibble, my RAW processor. The magic mix uses a Wavelet sharpening algorithm, three separate noise reduction algorithms (Wavelet denoise, Noise Ninja and "Pixie", a hot pixel remover), and a black point adjustment to make shadow areas truly black.
This picture of the Fab 5 is from last year's Barbados Reggae Festival, and was taken at a range of about 30m. What do you think?