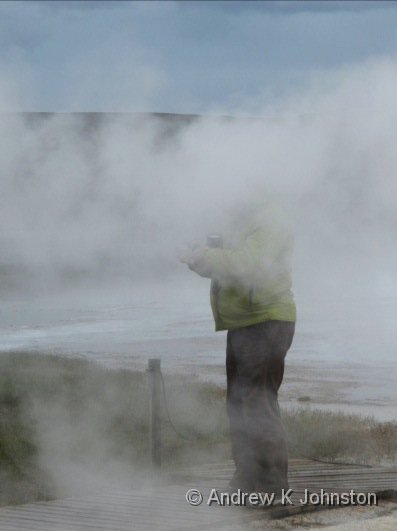 Iceland is a great place for photography, but you need to be properly prepared to get the best of it, and not come away disappointed.
First, unless you're very good at research, navigation and off-road driving, you need a guide. Sure, you can get to the well-known sites a short drive from Reykjavik or along the coast road under your own steam, but you'll miss many of the most stunning locations in the interior. However, if you want to spend serious time on your photography you need to be with a group, and guides, who understand your needs. I can't praise highly enough the great service I had from first contact with Nature Explorer. Hawk and Finn are both great company, skilful drivers, knowledgeable and entertaining guides, and impressive photographers in their own right. Their administrative staff are also excellent, and their resilience to problems comforting. I'm very happy to recommend them.
Next, dump your preconceptions. Even short distances or intervals bring dramatic variation in scenery, weather and lighting. Well known sites may be quite crowded, or almost empty. A classic view may disappoint, and then half an hour later a less obvious subject may be portfolio material. Dedicated dawn-watchers may disagree, but in my view timing isn't critical – "golden hour" extends well into the morning and from late afternoon, but more importantly the quality of your light is much more likely to be controlled by the weather than the hour. Iceland rewards being prepared more than missing breakfast and supper.
Protect your kit well, and carry spares for everything! Iceland is a harsh environment. You'll be doing long distances on rough roads. The volcanic dust and ash gets everywhere, and is very abrasive. You will end up soaked by rain, waterfalls and geysirs (in my case, "all of the above";)). The failure of my 15-85mm lens wasn't the only hardware problem in our group, although the others were mainly more minor problems with things like batteries, filters, lens caps and retaining rings. Several cameras gained battle scars from knocks and falls. I also managed to destroy a pair of trousers and gave up on a faulty battery. Nature Explorer even had to resort to a spare super-jeep!
As a minimum, make sure you have a second camera body and a second "standard" lens (whatever that means for you). My cheaper Canon 17-85mm lens rescued my trip. Consider carrying three batteries for your main body in case one dies as happened to me. Also remember one of the hidden advantages of using mid-range Canon kit – someone else in the group may be able to help. You will end up shooting in wet or dusty conditions, so a Kata Rain Bag or similar, and cheap filters you don't mind wiping with anything to hand are both essential!
Iceland is cold, but it's not the temperature that gets you (for our trip it was consistently above freezing and up to 14C), it's the wind. The answer is lots of layers. For me the combination of sweatshirt, microfibre jacket with detachable lining, warm hat and raincoat with hood was about right, but others might need even more. I can also recommend carrying a flask of coffee. I ended up buying one on the first day, and leaving it behind, and had to haggle with hoteliers a couple of times about filling it, but it was well worth the effort.
Deep pockets are useful in two different ways. In a practical sense they are a great solution to the ridiculous baggage limits airlines are progressively imposing. If you can shove a couple of lenses into your trousers and heavy batteries into your jacket then the baggage allowances become less of a problem.
In the metaphorical sense you need to be prepared for high prices – Iceland isn't cheap, especially by the standards of say the USA or southern Europe. That said, by UK standards and given the current exchange rate it didn't feel that bad. I will comment on the recommendation made by almost every web site and guide book to buy lots of booze at the incoming duty free store. I'm now convinced this is a con trick to get free beer for Icelanders. Unless you're a real alky, don't bother.
Don't expect to get anything done on the go. I had visions of sitting in the jeeps reading, writing my blog on my iPad, or at least preparing for the next location, but despite Finn being a very smooth driver this was absolutely impossible – the roads are just too rough. Not for nothing does my map of Iceland have a road classification I have never seen before: "main road – unsurfaced". 🙂
Be prepared for all photographic opportunities, and for lots of shooting. Although my Canon 7D got most use, the 550D also came into its own for wandering around Reykjavik, and I always had the S95 in my pocket for the unexpected. I shot at every focal length from 10mm to 300mm, and at every speed from 25s for the fireworks to 8 fps for the puffins in flight. I photographed landscapes, buildings, people and action. By the end of the trip I had exceeded my Cuba shooting total, having exposed around 2100 frames, with ~1150 (~30GB) retained for further processing after initial filtering. I used about 56GB of CF cards, plus a small amount on 2 8GB SD cards for the two smaller cameras.
There's a saying "chance favours the prepared mind". If that's ever true, it's true of photographing Iceland.
If you want to see more of my Iceland photography blog, or get a few specific location ideas, please go to www.andrewj.com/blog/iceland