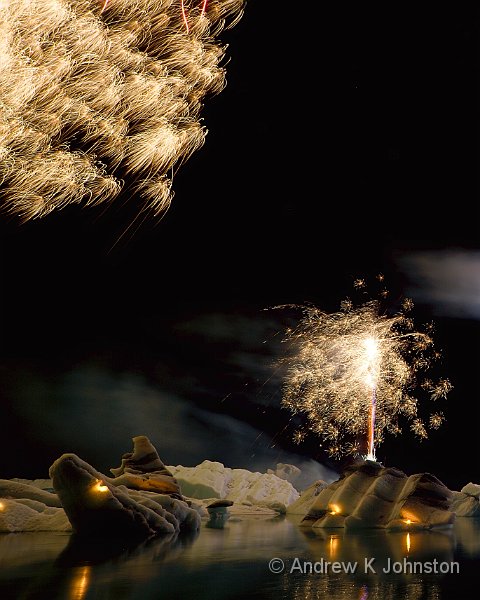 Camera: Canon EOS 7D | Lens: EF-S10-22mm f/3.5-4.5 USM | Date: 27-08-2011 23:13 | ISO: 200 | Exp. bias: 0 EV | Exp. Time: 8.0s | Aperture: 8.0 | Focal Length: 13.0mm (~21.1mm) | State/Province: East | See map | Lens: Canon EF-S 10-22mm f/3.5-4.5 USM
Saturday was when our tour really delivered on its "fire and ice" moniker. We started the day at the Jokulsarlon glacial lagoon, where an edge of the enormous Vatnajokull glacier calves off into the sea. Whereas 100 years ago this was happening quite close to the sea's edge, the point at which the icebergs fall from the glacial edge has progressively moved back, and they now fall into a lagoon of mixed salt and freshwater where they tend to hang around for a few days before drifting out to sea. Apparently the edge of the glacier is retreating by a massive 200m per year (due more to the effect of the incoming salt water than global warming), making this the fastest-changing glacier in Europe.
This has famously been used as the location for two Bond films, most notably the car chase in Die Another Day. The problem is that due to all the salt water, it doesn't usually freeze even in mid-Winter. So they temporarily blocked up the lagoon outlet to stop extra salt water coming in, and waited three weeks for the lagoon to freeze. Why they couldn't just find a suitable frozen lake somewhere is a good question, so far unanswered.
It is a very dramatic location for photography, with all the shapes and colours in the ice, and under constant change as the ice moves, often twisting and tumbling suddenly as the balance of the mass above and below the surface changes.
After lunch we headed up the coast via another, much calmer glacial lagoon to a waterfall surrounded by basalt columns. Unfortunately we got there just the same time as a bus load of grockles who all wanted to sit right in the middle of the stream for about 1/2 hour having their photos taken… Grr 🙁
The last stop before dinner was a quick walk up alongside the glacial tongue right behind our hotel. This was useful to get a sense of the enormous scale of these, and then try and imagine that each is only a tiny corner of Vatnajokull.
After dinner it was back to Jokullsarlon for the "fire" part of the day – a once a year fireworks display over the lagoon. This was brilliant, and I hope I've done it justice.
Sadly, it's the long drive back to Reykjavik tomorrow, with limited photography, and then home. However, it's been a wonderful trip, with an amazing and unexpected variety.