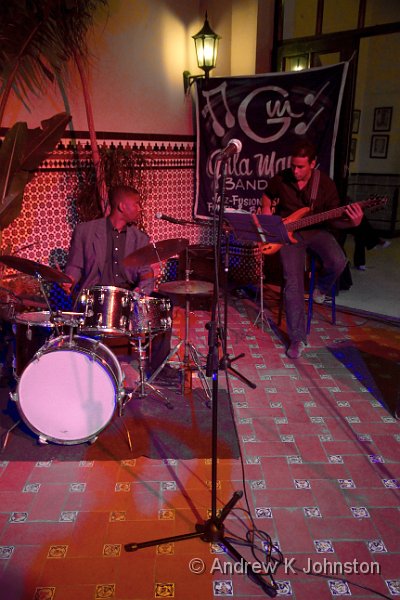 Camera: Canon EOS 7D | Lens: EF-S15-85mm f/3.5-5.6 IS USM | Date: 15-11-2010 03:27 | ISO: 3200 | Exp. bias: 0 EV | Exp. Time: 1/40s | Aperture: 4.5 | Focal Length: 21.0mm (~34.0mm) | Lens: Canon EF-S 15-85mm f3.5-5.6 IS USM
Well I've reached Cuba safe and sound, and I've decided to undertake an experiment, writing a travel blog, with daily observations and hopefully at least one decent photo. Whether or not this works depends on my self discipline, the availability of internet connectivity, and whether my photography is adequate, but I'm starting with the best intentions.
The trip was relatively uneventful, although marred by idiotic bureaucracy on the part of Virgin Atlantic, and some very odd behaviour by fellow passengers. Virgin first… They've decided on a weight limit of 6kg for hand luggage, and although apparently they've never enforced it previously, yesterday they were doing so with a vengeance. This might be fine for those off to a week in the sun with a magazine and a packet of sweets for the flight, but completely ridiculous for a destination where a large number of those going are serious photographers, with a couple of cameras, lenses and a laptop, none of which can go in the hold. However, they haven't found any way of enforcing a limit on the contents of your pockets, so we were treated to a steady stream of people unpacking their carefully packed camera bags into bulging pockets, getting the little "OK for hand baggage" sticker, and then decanting their pockets back into their bags at the end of the check-in desk. The BA approach is much better: they limit the luggage size, but if you choose to fill it with metal and glass, and can still lift it yourself, that's acceptable. Virgin are in danger of joining my own personal "no fly" list.
I started the flight in a nice forward window seat, with a quiet chap in the aisle, and an empty seat between us. This happy situation lasted about an hour, then a big bloke (about 6'3 and wider than I am) came up and asked the chap at the end "is that seat free?". He then promptly just climbed over him (without waiting for him to get up) and plonked himself in the seat. There the new arrival got in the way of me eating my dinner, fiddled endlessly, cursing, with the entertainment system, and suddenly got up and just climbed over the chap at the end to get out. About 10 minutes later her returned and repeated the process. Then he left, and his wife had a go, on the same basis! Finally we flew into some turbulence when they were both out of the seat, and they obviously returned to whence they came, but I felt really sorry for the chap at the end. The phrase "norms of social intercourse" springs to mind…
Arriving in Cuba wasn't as painful as some tales I've heard. The only minor bureaucratic problem was that the immigration people have got a new system to check your picture against the biometric version embedded in the passport, and this doesn't work terribly well for people who wear glasses, or are very short, or very tall, or look very tired after a long flight 🙂
The thing that struck me most on the drive into Havana was how dark it was. I'm not talking about the fact the sun had gone down (that's a process I've got the trick of by now), but how few buildings showed any light at all. In most Western countries we've got into a habit of lighting the outsides of our buildings, and letting light spill out from well-lit interiors. That's just not the way here – even major government buildings in Havanna were dark at 7pm, with maybe a single strip light showing from the security guard's office. It reminded me of my one trip behind the Iron Curtain before the wall came down. That said, if we're serious about reducing carbon emissions maybe we need to take the Cuban lead.
The Hotel Sevilla is very nice: built by the Biltmore chain in the American colonial days, it's full of spacious, airy rooms. My only complaint so far is that I can plug in my laptop, or the desk lamp, but not both, so I'm typing this by the light of one ~60W bulb in a room about 15′ cubed!
Photo of the day is from the bar last night. Very good entertainment, and an interesting example of the Canon 7D's ability to take photographs in what is becoming known as "available darkness" 🙂 ISO 3200 is never going to be noise free (because of some boring quantum stuff, but that's another post), but for this sort of subject it's not bad.
That's all for now. Future posts may be shorter – depending on how rapidly my biological clock aligns with Cuban time. Let me know what you think!
Andrew