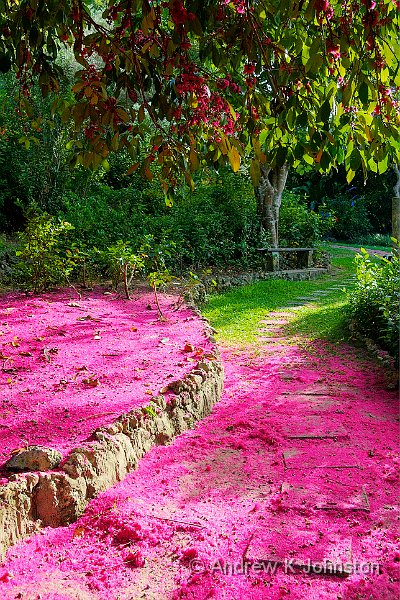 Camera: Canon EOS 40D | Lens: EF-S17-85mm f/4-5.6 IS USM | Date: 25-04-2010 21:40 | Resolution: 2577 x 3866 | ISO: 200 | Exp. Time: 1/159s | Aperture: 7.09 | Focal Length: 22.0mm (~35.7mm) | Lens: Canon EF-S 17-85mm f4-5.6 IS USM
I've been playing around with the previous image a bit more, and I've come up with this version – taken from a single original RAW file, but processed twice as a sort of "pseudo HDR" to knock back the highlights and open up the shadows slightly.
It conveys a completely different mood to the other version. I'm torn between them: the first conveys a slightly ethereal feel, but I suspect will look too dark on some monitors and prints. The second is a much more straightforward "happy garden" shot, really bringing out the colours, but losing some of the fascinating complexity of the tree's shadows.
What do you think?