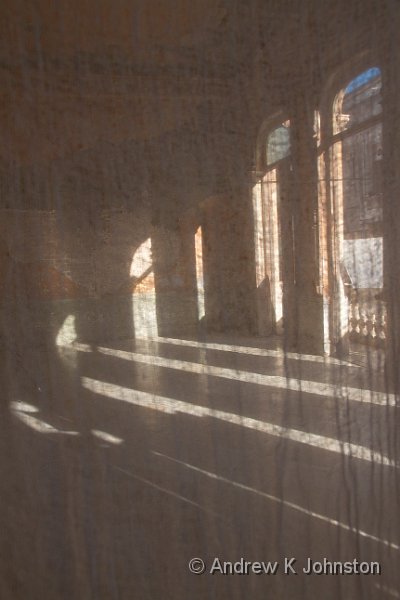 Camera: Canon EOS 7D | Lens: EF-S15-85mm f/3.5-5.6 IS USM | Date: 15-11-2010 21:49 | ISO: 400 | Exp. bias: 0 EV | Exp. Time: 1/320s | Aperture: 8.0 | Focal Length: 18.0mm (~29.2mm) | Lens: Canon EF-S 15-85mm f3.5-5.6 IS USM
The end of my first full day in Cuba has left me feeling a little sad. You often hear the phrase "faded grandeur", but never have I been anywhere where it's so markedly and consistently appropriate as here. This is faded grandeur turned up to 11, if I may mix my epithets.
Central Havana is very photogenic. Everywhere you turn there's an interesting old car, some once elegant architecture, or a fascinating face. But much of what makes such interesting images comes at a price: cars which are still providing transport long after their peers elsewhere were replaced, buildings crumbling and fading, people sitting outside said buildings because they have little else to do.
The fate of the cars is not that sad: many survive which would otherwise long ago have been scrapped, and for each being finally allowed to fade to oblivion there's another which has obviously been lovingly maintained and has many years of active life left.
The buildings are much sadder. Colonial Havana was clearly once a very beautiful city, full of lusciously decorated buildings. These are now (in some cases) literally crumbling into the street. In other beautiful cities, such an architectural heritage is subject to concepts like "conservation" and "arrested development", but Cuba appears to lack the right combination of money, will and skills to apply them. It's common to see beautiful plasterwork patched with coarse cement, or faded facades draped in cables gradually losing their original form.
The people are very friendly, and not camera shy. Some actively seek to pose for the cameras, or ask where you're from, often in the hope of a small donation but at other times without actively seeking such. But even those who are just living life in view of the street seem oblivious to the fact that we're recording that life for our images, where in other places similar people would show obvious antipathy to being photographed. Maybe we're seen as a natural extension of a community in which what happens on the street is public knowledge. I just hope we're not turning Havana into one large fully-populated theme park.
Lee's a hard task master. We didn't really stop while there was light yesterday, and I'm writing this at 5 a.m., shortly before I have to get up and out for the pre-dawn shoot! Hopefully my biological clock will settle down soon, but please forgive a break in service when it does!