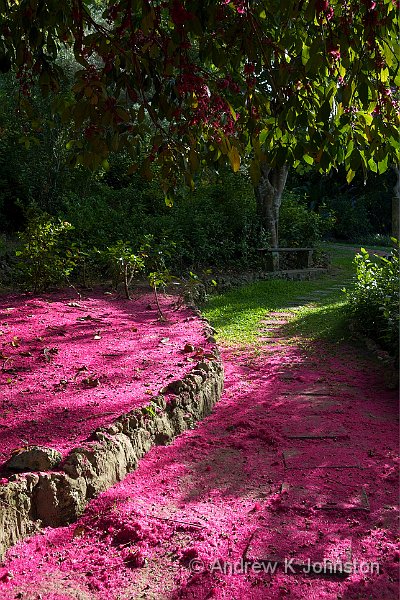 Camera: Canon EOS 40D | Lens: EF-S17-85mm f/4-5.6 IS USM | Date: 25-04-2010 21:40 | ISO: 200 | Exp. bias: -2/3 EV | Exp. Time: 1/160s | Aperture: 7.1 | Focal Length: 22.0mm (~35.7mm) | Lens: Canon EF-S 17-85mm f4-5.6 IS USM
Although I love tropical gardens, photographing them can be a challenge: there's often so much greenery that isolating a subject becomes a real challenge, and since most are closed during the "golden hours", you can be battling quite harsh light and very high dynamic range. My previous visits to the Andromeda Botanic Gardens on Barbados have always suffered from this – I've come away failing to do justice to the beauty in front of me.
This year, however, luck was with me. We came round a bend to be met by this amazing sight – a Malay Apple tree (Syzygium malaccense), coming to the end of a dramatic blossoming, with the discarded blossoms forming a wide pink carpet.
This shot is pretty much as it came out of the camera, just a slight tweak to vibrance and curves – no HDR trickery needed on this occasion. I have done an HDR treatment which lightens up the shadows a bit, but I'm not sure it's an improvement. I might post that as well and see what people think.
Score 1 to the Andromeda Gardens!