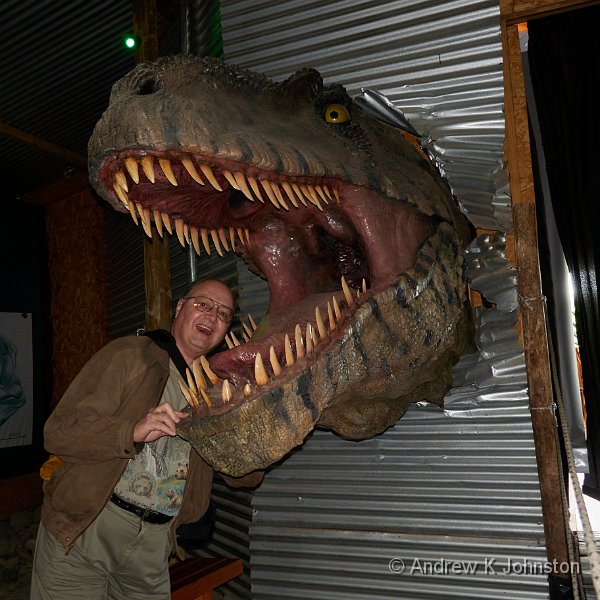 Camera: SONY DSC-RX100M7 | Date: 12-02-2023 11:35 | Resolution: 3648 x 3648 | ISO: 1000 | Exp. bias: -0.3 EV | Exp. Time: 1/30s | Aperture: 4.5 | Focal Length: 11.3mm (~30.0mm)
On the first night in El Calafate we had an excellent but very large steak dinner, and once my digestive system had settled down I got a reasonable night's sleep (cheat!)
At breakfast it transpired we'd been joined by the German contingent, all four of them, who'd taken a very early flight from Buenos Aires. As they were now in the position of being sleep deprived with nowhere to go and lie down, naturally we all decamped down to the lake to look at the flamingos. As we got within 20m of the water the temperature dropped, the wind whipped up, and I rapidly and publicly recanted all my rude comments about the clothing recommendations, and wished myself speedily back at the hotel to get a more substantial hat.
The flamingos were not terribly cooperative posing for us. We wondered if the issue might be they were all feeding, but on closer inspection it became apparent that they all had their heads tucked under their wings to get out of the cold blast. Completely understandable.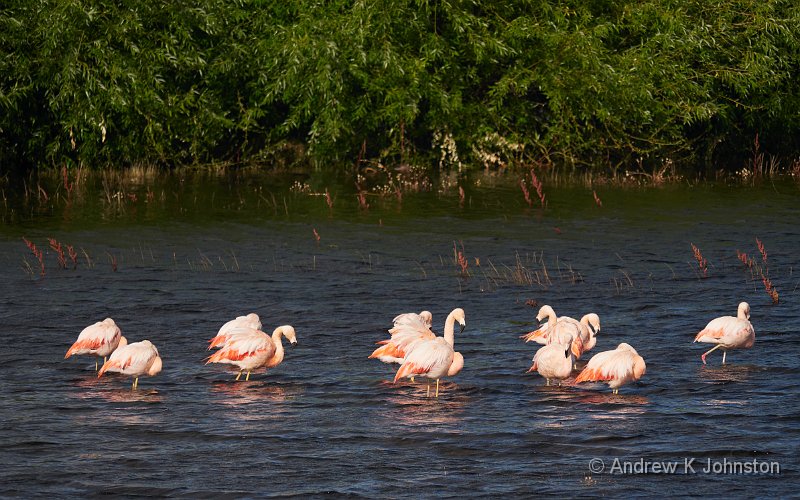 Flamingos at the Reserva La Nimez (Show Details)
Camera: Panasonic DC-G9 | Date: 12-02-2023 09:54 | Resolution: 4779 x 2987 | ISO: 200 | Exp. bias: -66/100 EV | Exp. Time: 1/500s | Aperture: 4.7 | Focal Length: 171.0mm | Lens: LUMIX G VARIO 100-300/F4.0-5.6II
Hotel revisited and hats exchanged, I set out for the El Calafate natural history museum, the Centro de Interpretación Histórica. Although relatively small, only really three large rooms, they have an excellent display of South American dinosaur skeletons, and a fun reconstruction of a giganotosaurus' head. There's an obvious selfie, although you have the challenge of getting the camera far enough away, and dealing with the low light in the room. Fortunately I had in my pocket the estimable Sony RX100 mk7, the only camera I still own with both on-camera flash and self timer, and it worked beautifully!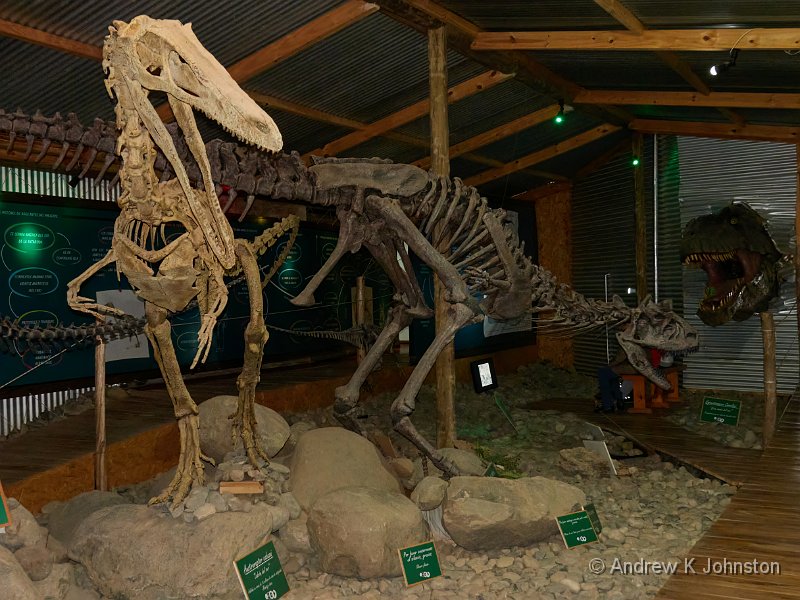 Austroraptor (front) and Carnotaurus (Show Details)
Camera: SONY DSC-RX100M7 | Date: 12-02-2023 11:29 | Resolution: 4864 x 3648 | ISO: 3200 | Exp. bias: -0.3 EV | Exp. Time: 1/40s | Aperture: 4.5 | Focal Length: 13.3mm (~36.0mm)
When I came out of the museum, about 1km from our hotel and El Calafate's central park, they were warming up for "The Festival of the Lakes", an annual music festival. I could hear everything clearly, which didn't bode well for an early night at our hotel, over the road from the venue.
Back on the main street I bumped by accident into the Germans, who had by this stage been joined by the Texan contingent, and we had an excellent lunch of pizza and beer. A man's gotta chew what a man's gotta chew.
By 6pm the entire party had assembled and we had an excellent meal together. Back to the hotel and the Americans sat down to watch the Superbowl, complete with detailed Spanish narration. Meanwhile behind the festival was getting going at an even higher level of volume. The only solution, and one which worked, was lots of red wine!