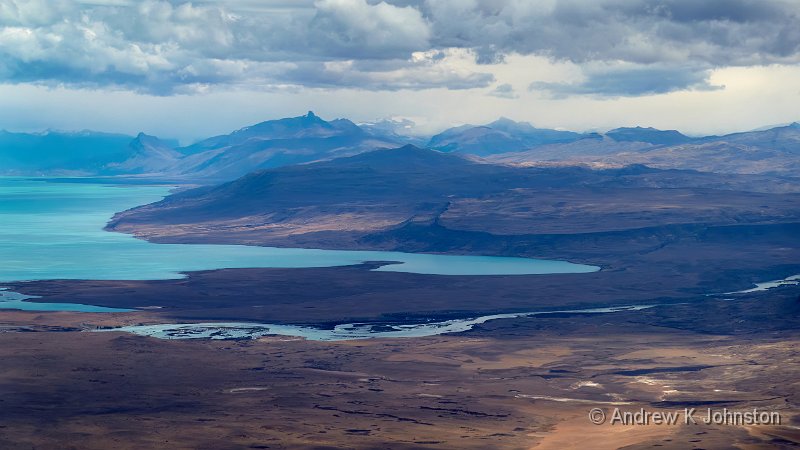 Camera: SONY DSC-RX100M7 | Date: 11-02-2023 13:14 | Resolution: 5003 x 2814 | ISO: 100 | Exp. bias: -0.3 EV | Exp. Time: 1/800s | Aperture: 5.0 | Focal Length: 43.5mm (~119.0mm)
I've made a start on one of my occasional tests of the human body's ability to endure in situations of extreme sleep deprivation, or, as I usually call them, photo trips. This time it's Patagonia.
Those who know me better will be aware that this has been a long time coming. I originally booked a trip to Patagonia back in 2014, inspired by two BBC documentaries, one of which was made by the BBC wildlife unit, and the other, infamously, by the Top Gear team. The original booking got cancelled and became, after a couple of further cancellations, my Bhutan trip. Other things happened for a couple of years, but in 2019 I managed to make another booking for a Patagonia trip. I was literally ready to go in the third week of March 2020 and "shit happened". The trip could have been a complete write-off, but fortunately the organisers managed to roll the various bookings forward, twice, and here we are.
I was going to write that I have been almost paranoid about any possible barrier to the trip happening this time but that would be incorrect. I have been absolutely, completely paranoid, even to the extent of limiting the weights I lifted in my last training session in case I strained something. Mad, perhaps, but I write this from El Calafate, so fingers crossed it's worked.
True to form the trip started as it is likely to continue, if experience is any guide, with various causes of sleep deprivation. It's a very long overnight flight from London to Buenos Aires, which started at almost 10pm. I was ready for a sleep then, and actually dozed as we were taking off, but BA had other plans. By the time they had finished with pre-dinner drinks, dinner, coffee and clearing up it was well after midnight and Hypnos had given up and gone off to more productive pastures. Despite a comfy seat and almost magical noise-cancelling headphones he didn't re-appear and I dozed fitfully.
I arrived at the hotel fit to be tied, but as it was only 10am in Argentina the room wasn't ready, so I spent the morning getting to know some Argentinian pastry delicacies. Finally the room was mine and I disrobed, closed the curtains, switched off the lights, climbed into bed, and that's when the banging started. Either next door's headboard needed maintenance, or it was involved in some repetitive physical activity… Fortunately (for me at least) it didn't last long and I got off to sleep for about an hour, when the banging started again, in a different room.
Late afternoon I got up for a wander. The Hilton is located in a docklands regeneration area, with a waterway and various bridges for interest. Dinner at the hotel was prohibitively expensive, so I ended up in at a floating bar, on a pontoon in the middle of the dock, with tasty burgers and a very impressive, German-inspired beer list. My initial interaction was with a nice blonde waitress who spoke good English. However communication broke down when I tried to ask one of the other waiters for the bill, and he brought another beer! Oh well.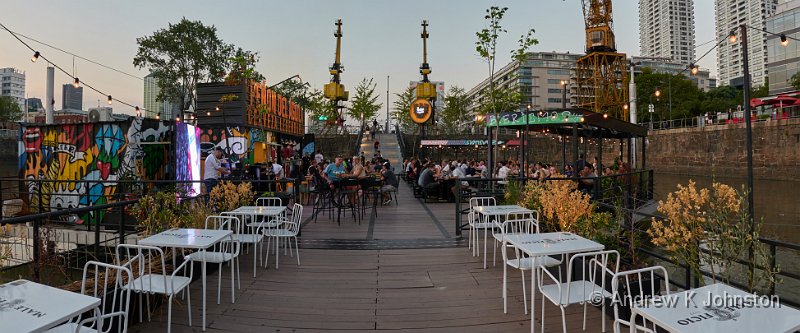 It may be a bit early to judge, but I am wondering if I've packed correctly. The suitcase includes fleece-lined over-trousers and a down parka. In Buenos Aires it was 33C. Hopefully that won't be the case up on the glaciers, but I'm beginning to wonder.
The flight down to El Calafate was uneventful, but towards the end some interesting looking lakes and mountains started to appear. El Calafate itself is a typical wilderness tourist centre, putting me in mind of Banff in Canada, or Moab in Utah, but in Spanish. Exploring it will be tomorrow's job.