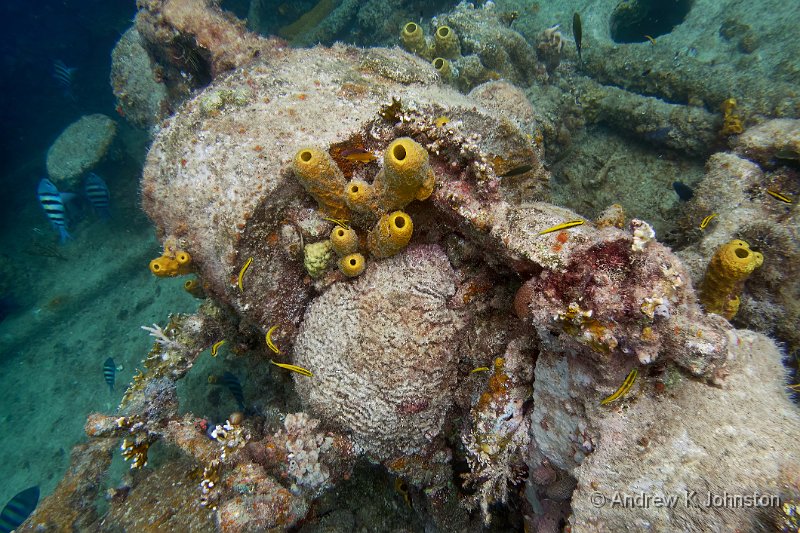 Camera: OLYMPUS CORPORATION TG-6 | Date: 25-04-2023 14:38 | Resolution: 4243 x 2828 | ISO: 100 | Exp. bias: 0 EV | Exp. Time: 1/320s | Aperture: 2.8 | Focal Length: 4.5mm (~25.0mm)
I don't do a lot of underwater photography, but I like to have an underwater-capable camera for snorkelling on holiday, and it's also potentially a good option for working in very wet conditions above seal level. For the last 10 years I've used a Canon S120 with the Canon underwater housing, which works very well. It shoots RAW, and I've developed a very slick process for correcting the white balance to produce colour-accurate shots which can be put through my normal workflow alongside the output from my other cameras. A few years ago I also flirted with a Panasonic GF6, again with a dedicated housing, and that also worked well, but I decided it didn't give me enough extra capability to justify the larger size of the kit.
Unfortunately as I'm getting older my eyes are changing, and on the last couple of trips I've struggled to see the rear screen of the S120 through the combination of snorkel mask and housing. I therefore decided I needed to remove at least one layer of distortions and reflections from the chain, by buying a camera designed for underwater use. To work for me it would have to have good stills capability, a large rear screen, RAW capability and physical controls (I don't get on with phones as cameras, again it's largely an eyesight thing). Those requirements eliminated most options but the Olympus TG6 seemed to tick all the boxes.
I approached the TG6 with a bit of trepidation: a lot of reviews suggest that even though it is underwater capable as-is, you should still put it in a housing for serious use. Also I had a bad experience with one of its predecessors, the TG2, which failed dramatically on its first use in the sea. However most reviews were positive, and I decided to have a go.
Some of the issues with the TG2 have been fixed. The newer camera supports RAW, and has an extensive menu of underwater focus and white balance options. The screen is no larger than the Canon S120's, but without a housing it is easier to see. Generally the TG6 a "high capability" small camera, with some features such as macro focus bracketing which I don't have with any other camera. The external seals have been improved, with a clever double-locking mechanism to make sure they are shut and stay shut. Importantly, the camera survived two snorkelling trips without springing a leak, which shouldn't be an achievement for this type of camera, but based on my previous experience, it is.
However I really struggle with the "tough" designation. By default the lens comes without any protection at all, so I shelled out an extra £35 on the LB-T01 "lens barrier", which clips on in place of the filter ring and provides a neat "twist to open or close" lens cap. However on the second snorkelling trip I had to wade back onto the beach through some sandy surf. Some of the sand obviously worked its way into the lens barrier, and it jammed open. I await a replacement, and probably a future recurrence.
You imagine these devices being thrown into kit bags and dropped on floors, but if you do so you'll rapidly scratch the rear screen out of usability. I carried the camera on its first trip in the side pocket of my snorkel bag. Just an empty, clean pocket in a nylon bag, nothing else in it. When we reached the boat the rear screen had picked up a couple of small but distinct scratches. I've just watched a program where they showed the "key scratch test" used on FitBit screens, but heaven knows how the TG6 would survive that. What's annoying is there's a very simple solution short of engineering the screen with genuinely tough glass – why doesn't it come with a screen protector fitted as standard, and then you can just replace that when it's damaged? I've fitted one now, but it's a bit too late…
You still have to open either the USB port cover or the battery cover to recharge the battery. Why can't it have an exterior charge point like a FitBit, or inductive charging like my toothbrush? Then if you set up WiFi to access the data you could leave the camera sealed for a whole trip, which would be much more secure. As it is I'm still not 100% convinced that the next time out won't be the time the seals fail and it goes the way of the TG2.
Given my changing eyes I'll hang onto the TG6 at least for a planned beach trip at the end of the year, but unlike some cameras, it's a bit on sufferance and not an entirely comfortable relationship.