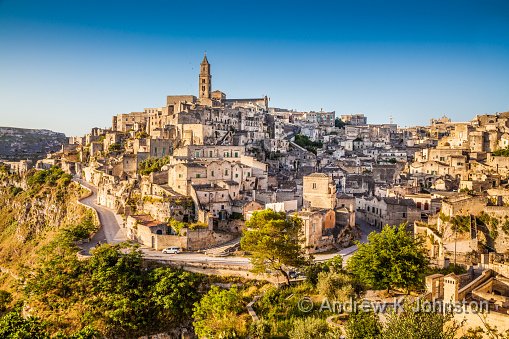 Caption: Ancient town of Matera (Sassi di Matera) at sunrise, Basilicata, southern Italy.
Here's a heretical proposition: Quantum of B**locks is clearly the worst of all the "real" Bond films, but is No Time To Die the second worst? The release of a new Bond film is always accompanied by almost hagiographic sycophancy, but the reality is that No Time To Die is a very poor entry in the Bond franchise, if not an actively bad one.
It has to be said that the warning signs were apparent even before we got to the cinema: the over-long running time, the major changes in production team including the producers' parting of ways with Danny Boyle, a long list of writing credits. These are common failings with horrors such as the execrable Pirates of the Caribbean 3, so didn't bode well. However we arrived at the screen hoping for the best and wanting to be entertained. Unfortunately the film over-promised and under-delivered.
The problem isn't the core plot of the film. This story could have been delivered with aplomb in a tight, flowing 2 hour package which kept up the Bond film standard. Instead it rambles with lengthy introspection more worthy of Jean de Florette. The action sequences when they come are fine, but several are also much longer than required and one, the fight through the villain's lair takes so long it almost becomes boring.
The villain's motivation is never really clear. If you're going to launch a WMD which could kill off half the world's population you really need to explain why. Call me old-fashioned but I like a bit of monologuing. Gert Frobe couldn't speak English fluently, but his explanations in Goldfinger are exemplary. Rami Malek mutters darkly and you're none the wiser.
The same story could have been told without killing off Blofeld, Leiter & Bond! These deaths, particularly Bond's, set a horrible stamp of finality on the film which is hard to explain. It wouldn't be so bad if they were "he fell in the canal and the body was never recovered", but being respectively poisoned (in front of Bond), shot/drowned and blown up by a cruise missile are going to be hard to come back from…
What next? Does the next film start with Moneypenny waking from a horrible dream? Are they going to outsource the 00 section to some equal-opportunity collective? (That's actually not the worst idea – in Edge of Darkness Harcourt and Pendleton get GLC funding via a black lesbian collective, maybe they could work that in.)
It's almost as if the producers saw Avengers: Endgame and thought "we could do that", but forgot that unlike the Marvel Cinematic Universe, there's a single somewhat key character in the Bond series. I know that this is Daniel Craig's last Bond film, but the previous "last" films (those which were known as such at the time) are celebrations of the actor's run, not a memorial service.
This is definitely a Bond film too far for Daniel Craig. He never looked truly comfortable in the role, but in this one he looks actively tired. I know this is supposed to be about his "feelings", but he just looks worn out. Moore, Dalton and Brosnan all carried and acknowledged the grief of Tracy's tragic death. Licence to Kill is largely driven by Bond's desire for vengeance after Felix's near death and his wife's murder. Roger Moore was older than Craig when he did his last two films. But none of these resulted in a screen Bond who looked uncomfortable in his own skin.
The joke that during Bond's retirement 007 has been allocated to a black woman falls flat. It ignores the fact that throughout Bond's history (except, oddly, in the Daniel Craig era) there have been lots of strong female characters, many rival agents of comparable rank and ability to Bond. It doesn't help that the new 007, Nomi is portrayed as solid and capable but almost deliberately unexciting. She's underwritten and is not allowed to actually do very much – it's left to the rather more stereotypical Paloma, a leggy high-kicking CIA agent in a skimpy dress to make a real impression.
As far as humour goes that's about it. In common with the other Craig films this is dry as a bone. I prefer the world to be saved by someone with a quizzical raised eyebrow, nicely straightened tie, and an appropriate one liner for each despatched henchman.
Many of the other traditional markers of a true Bond file are also absent. The Bond team pretty much invented the signature stunt (think of the car jump in The Man with the Golden Gun, the ski/parachute jump in The Spy Who Loved Me, or taking a motorbike over a hovering helicopter in Tomorrow Never Dies), but aside from a couple of decent motorbike stunts there's none of that here – it's been abandoned to the Fast and Furious and Mission Impossible teams. (And remember, Tom Cruise is 6 years Daniel Craig's senior, doesn't look shagged out, and does most of his signature stunts himself.)
The body count is high, but mainly because too many people just get shot by machine gun, in long running battles. There's no ingenuity to the resolution, just dogged determination to shoot the bad guys before they shoot you. If that's the sort of film you're making you don't need Bond, James Bond, you need Casey Ryback.
With one exception the music is awful. The whiny alleged theme tune (as far as I can work out it fails the definitions of both "theme" and "tune") drones on through a credit sequence which would never have met Maurice Binder's approval. The incidental music is unremarkable, and unless I missed it the great Monty Norman theme is notable by its absence, maybe because there are few moments of real flair to justify it. This was another aspect of the film which suffered from a mid-production change of direction.
Did I like anything? I loved the Italian locations in Matera and Sapri, with the car and bike chase through the former probably, for me, the film's high point. The scenes set in the Norwegian forest were good. The re-use of We Have All The Time In The World is inspired, but it does remind you that there's a much better, 52 year old film about 007's life and loves.
If this is really the final Bond film it's a disappointing one. If not, then I have some suggestions for the next one…
It should start with Samantha Bond as Moneypenny waking from a bad dream, and pick up (with new cast) where Brosnan and co. left off. To cast Bond himself, find a 35-year-old actor who has already shown himself able to play a leading role with some flair and panache (Richard Madden? Kit Harington? Chris Hemsworth?) Make him debonair and suave, not a thug in a suit. Give him a sense of humour and write the lines and situations to exploit it. Balance this with a range of strong female roles of all ages, on both sides of the battle (remember, Die Another Day had Halle Berry and Rosamund Pike).
Re-create a healthy interest in stuff: clothes, cars, gadgets, locations, and shoot in a cheerful colour palette to match. If you can find someone who's prepared to write and perform a proper Bond title song (e.g. Ivy Levan who did the one for Spy) great. If not suck it up and get the rights to Emma Bunton's Free Me – a perfect Bond theme waiting ready for use.
And, this is most important, if someone suggests that the film should be about exploring Bond's emotions: shoot them, with a machine gun.