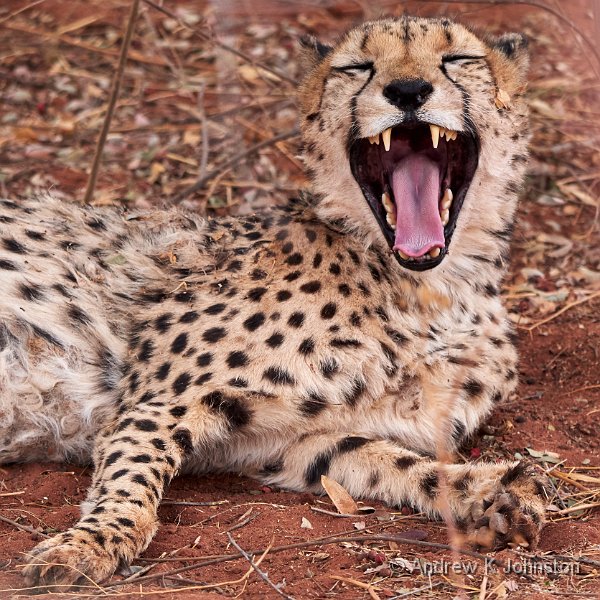 Camera: Panasonic DC-G9 | Date: 16-11-2018 17:29 | Resolution: 3345 x 3345 | ISO: 800 | Exp. bias: 0 EV | Exp. Time: 1/500s | Aperture: 5.6 | Focal Length: 193.0mm | Location: Okonjima | State/Province: Okonjati, Otjozondjupa | See map | Lens: LUMIX G VARIO 100-300/F4.0-5.6II
The last day of any trip is always a bit sad, and hard work with the travel. However this year three separate organisations covered themselves in something which is not glory, and I have to get this out of my system before I write the traditional tail piece for my blog…
As a bit of compensation, here's a nice picture of a cheetah, feeling about like I did at 1am on Friday.
Thanks.
Rant 1: Designing Hotel Bedrooms
The recurring dysfunctional ingenuity of hotel designers never ceases to amaze me, and provides an endless supply of material for this blog. On our way back through Windhoek, we stayed at Galton House, which while still quite smart overall and in the communal areas, was probably half a notch down from the Pension Thule, where we stayed outbound. My room was a bit poky and had a couple of major challenges, including very noisy air conditioning, and an Iceland-class duvet (in Windhoek, in the summer!). However the worst fail was that it had one accessible power socket, to the right of the bathroom door, while the desk, the only place I could rest laptop and things on charge, was to the left of the same doorway. I therefore had to spend my stay with a power cable stretched right across the bathroom doorway, limbo dancing under it when I needed to use the facilities.
One wonders what sort of hotel designer comes up with a room with a desk, and no power socket on the appropriate side of the room. That's up to the standard of the Calais hotel I once stayed in where the lift worked but the stairs were out of order (due to a 10 ft gap half way down.) Admittedly about 20 years ago I did stay in a hotel in England where the only place you could get simultaneous power and modem connectivity was in the hot tub in the middle of the room, but that was an adapted medieval abbey, and plain weird. Galton House is a smart new purpose-built venue. Not a clue…
And to add actual injury to potential injury, most of us had got the whole way around Namibia without many bites, and several of us, including myself, woke up covered in nasty little red marks. Blast.
Rant 2: Midnight Food Service
I'm fully in favour of Virgin holding onto the "full service airline" concept when BA and others have abandoned it. However, if you are running a night flight which leaves Johannesburg at 21.00 local time, and arrives in London at 06.00 local time, I would suggest that your highest priority is to try and enable your passengers to get as much of a decent night's sleep as airline seating and turbulence allow. This is not promoted by serving, slowly, drinks, followed by a rubbish collection, followed by tepid towels (they were probably hot when they left the galley, but I was at the front of Economy), followed by a rubbish collection, followed by "supper", at about 00.30, followed by hot drinks, and finally followed by another rubbish collection at gone 1 in the morning!
…Followed by inedible breakfast, at about 05.00…
Would it really not be better to just give everyone some booze and turn the lights off?
Rant 3: The 787 Nightmare Liner
I wasn't impressed by the 787 on the flight out, but my assessment reduced a further notch on the way back. That plane revealed a number of areas where the new technology has aged very badly. One example: the window dimming switch on my window had obviously been jabbed so frequently and hard that  the rubber cover had completely failed and peeled away. Worse, the toilet is supposed to retain the seat upright via some magnetic mechanism, with a nearby "non contact" switch operating the flush. In the loo nearest my seat the seat retainer had completely failed, meaning that I had to sit holding the seat upright with one hand, and every time I moved, the flush mechanism triggered randomly.
This was all on a "nearly new" plane which has by definition only been in service for a couple of years. How that plane will look after 10 or more years use I shudder to think.
I suspect that the 787-200 or whatever they call the "2.0" version will be a good plane, but I'd hate to be in charge of maintaining the oldest versions.
</Rant>
In fairness to Galton House, Virgin and Boeing, I arrived back at Heathrow at 06.00 safe, sound and slightly ahead of schedule. In the words of Old Blue Eyes:
It's very nice to go trav'ling
To Paris, London and Rome
It's oh so nice to go trav'ling
But it's so much nicer, yes it's so much nicer, to come home…