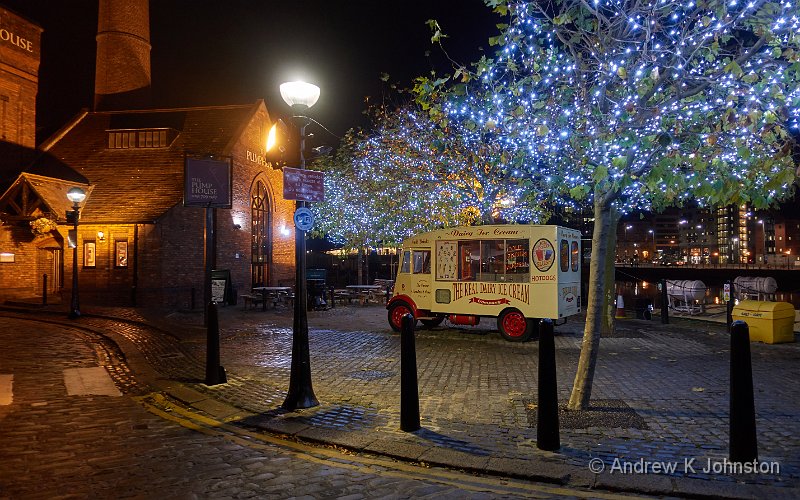 Camera: SONY DSC-RX100M4 | Date: 29-11-2016 20:20 | Resolution: 5718 x 3574 | ISO: 250 | Exp. bias: -0.7 EV | Exp. Time: 1/30s | Aperture: 1.8 | Focal Length: 8.8mm (~24.0mm)
Last night was crisp, clear, cold and very still – theoretically ideal conditions for photographing the lights at Albert Dock with reflections in the water. I couldn't get out any earlier, but did manage to take my Sony RX100 with me on the way to a dinner meeting.
Unfortunately I was well past "blue hour" so there was no light whatsoever in the sky or its reflection. This presented a bit of a problem, in that it's a real challenge to a camera's dynamic range, and the tendency is to over-expose the highlights (lights). The RX100 also insisted in the longer views in defaulting to ISO 6400 (because of the low overall light levels), and in the cold I didn't have the patience to fix this properly.
The result is that the best shots were those with a reasonable level of foreground light, like the one above. The image quality is excellent, as is the control of the highlights, especially considering it was taken on a small sensor camera in what would be low light by most standards. However I did have success with a couple of longer shots, typically where there was an illuminated building to lift the overall luminosity. The one below is a decent example.
The moral of the tale – try and get out a bit earlier, and set the auto-ISO limit a bit lower!