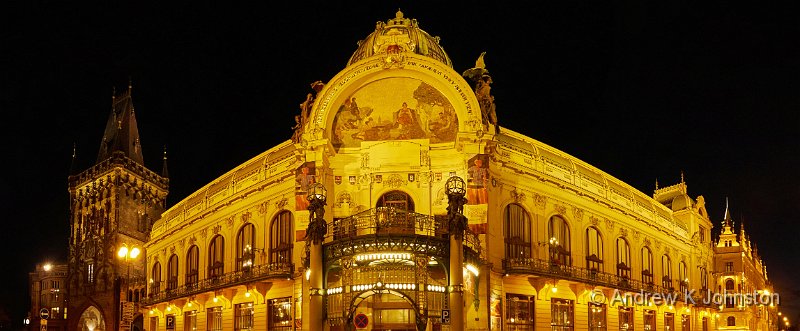 Camera: Panasonic DMC-GX8 | Date: 30-06-2016 21:35 | Resolution: 9183 x 3804 | ISO: 3200 | Exp. bias: 0 EV | Exp. Time: 1/25s | Aperture: 5.6 | Focal Length: 12.0mm | State/Province: Prague | See map
Apologies if there hasn't been much activity on the blog lately. I'm deep into the invention of the expert system I wrote about previously, and that's filling the relatively small brain of this bear, and not leaving much space for other creative activities. However, I am gently working on a couple of longer articles I hope to share with you soon.
Meanwhile, I am working here and there to catch up on the photographic backlog. Frances and I had a couple of days in Prague about a month ago, and predictably I took a fair few photographs. What was interesting was the dynamic of the type of shots: I did relatively little close-up or 3D photography, but the opportunity to generate big panoramas positively abounds, especially if, as I did, you get up to the top of several of the towers open to the public. I've recently switched my panoramic development to Kolor's Autopano Giga, which coupled with Capture One makes the whole process very quick and painless, effortlessly adjusting and stitching even images taken with a moving camera (moving from the waist, rather than rotating the camera around its optical centre as per correct technique), and those requiring substantial perspective correction.
The attached was taken from a point where the main entrance of the opera house filled the frame, and the two sides stretched away from me down two streets orthogonal to each other. It was also taken late at night, hand-held by available light but the Panasonic GX8 has made a decent job of managing highlights even if the sky does fall away to black. I think it works.