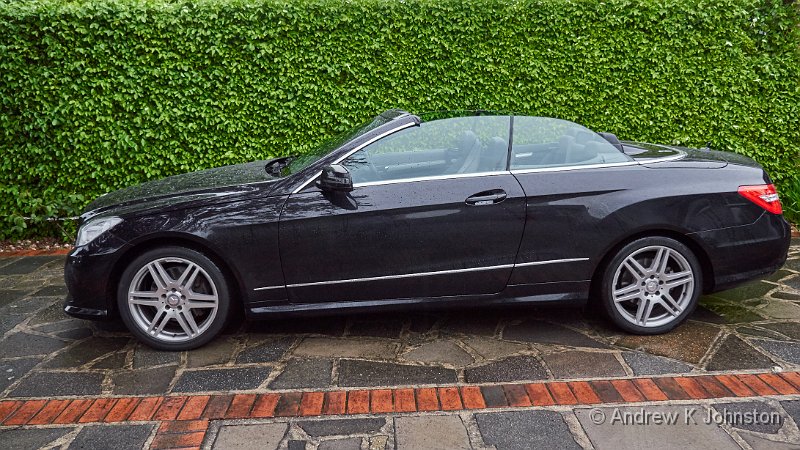 Camera: Panasonic DMC-GH4 | Date: 14-05-2015 20:09 | Resolution: 4367 x 2457 | ISO: 500 | Exp. bias: -66/100 EV | Exp. Time: 1/60s | Aperture: 2.8 | Focal Length: 12.0mm | Lens: LUMIX G VARIO 12-35/F2.8
It has been said that the ideal car for Darth Vader would be an original Mercedes CLS, in black. I think I have discovered the ideal car for Dr. Henry Jekyll, and Mr. Hyde!
Mercedes themselves acknowledge the dual personality of the beast with the space-filling full title of "Mercedes-Benz E Class Cabriolet E 350 CDI Blue Efficiency AMG Sport 125". Now I may be wrong, but shouldn't "Blue Efficiency" and "AMG Sport" sort of cancel each other out? Apparently not…
In normal use this is a typical, refined, Mercedes soft-top, very reminiscent of the old 129-series SLs. I was a bit worried before I took delivery that the suspension might be firmer than ideal, but it's absolutely fine. It's smooth, stable and quiet, the big Diesel engine hardly audible top up or down.It's very quick, but doesn't feel "fast"(even though on main roads you can maintain high speeds very easily), because the throttle response is fairly muted. And, the "Blue Efficiency" bit kicking in, on a long run as long as you keep it under about 85mph you can get around 40mpg, not bad for a heavy car with a 3l engine. Ideal for mild mannered Henry Jekyll.
And then you press the little button marked "SPORT".
Now I've had cars with sport settings before. On the Mercedes SLs and the old Porsche 993 it supposedly made the gearbox a bit more responsive, but I never noticed much difference. On the VW EOS, with its petrol turbo engine there was a noticeable effect if you wanted to drive hard because the different profile meant that the turbo was always spun up and there was no lag, whereas that could occasionally catch you out in normal mode.
This is different. The button should probably be labelled "Dr. Henry Jekyll's Patent Elixir", but unfortunately that wouldn't fit. It seems to signal someone to release a snarling, snorting monster from its cage. In practical terms the car sharpens its steering, firms up the suspension, changes the gearbox profile and dramatically modifies both the throttle response and engine behaviour. I'm not sure whether there's also a change to the exhaust note, or whether that's just a side-effect of the engine working harder. The net effect is a bit like having a large, powerful dog pulling you along on its lead – you go from nudging it gently in the rear end in ECO mode to desperately trying to reign it in in SPORT. 0-60 takes just over 6s, but the most noticeable effect is mid-range acceleration, which distinctly betters my last Porsche. Mr. Hyde would approve.
Some cars are soulless, and some have a distinct personality. This has two, and I'm enjoying both of them!