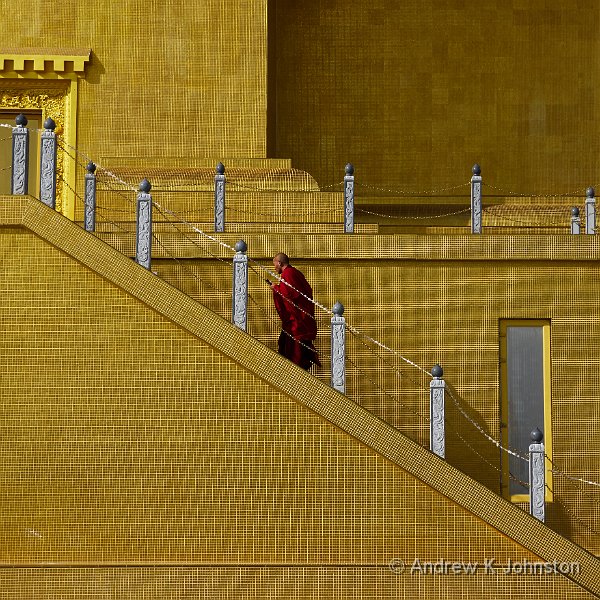 Camera: Panasonic DMC-GX8 | Date: 16-11-2015 14:21 | Resolution: 3690 x 3690 | ISO: 200 | Exp. bias: -33/100 EV | Exp. Time: 1/250s | Aperture: 8.0 | Focal Length: 35.0mm | Lens: LUMIX G VARIO 12-35/F2.8
We've had another good day. We start at the National Memorial Chorten (a sort of shrine), which is very busy but I get some good shots of old ladies cleaning all the brass lamps, and then the brass lamps burning. After that we were supposed to go to the craft school, but it was shut. However we do get half an hour in the craft shop, and I managed to get two embroidered T shirts, so at least I'm not going to smell my way around Bhutan.
We then had a look around the national library, followed by an excellent lunch at a Chinese restaurant. It makes a welcome change to have real recognisable meat. In Paro most of the food was vegetarian, with an Indian flavour – tasty, but not what my body is used to. Occasionally we were offered "chicken curry", but this appears to consist of chopping the entire, scrawny bird into uniform cubes most of which are shattered bone, and then nuking it to ensure there is no animal DNA left. In Thimpu there seems to be a bit more of a Chinese influence on the food, including meat which may still have some relationship to the original animal.
After lunch we go up to see the Golden Bhudda, a massive (51m high) golden statue they have just finished building on the mountain ridge over Thimpu (very much in the style of the Christ statue in Rio). This is a great photo location which I really enjoy. I got some great shots, especially several which I think should work well in 3D on the TV.
The Bhudda is very obviously a work in progress, with construction still underway on the supporting facilities, outdoor meeting area and other bits and pieces, such as additional Bhudda statues waiting to be installed, or railings which have not yet had their coat of gold paint. The reason for this state is fairly obviously, Bhutan has just had a major festival, celebrating the 60th birthday of the "old king", and obviously the Bhudda needed to be officially "open" for it. The regal arrangements are interesting: basically the fourth king in the Wangchuck dynasty reigned for 40 years from a relatively young age, and retired in his late 50s to let his son take over, so Bhutan currently have a king, and an "old king". One can only speculate how this arrangement has been discussed in the Windsor household!
This evening is "culture night". We all go to a restaurant at the other end of Thimpu, are dressed in Bhutanese costume, and then listen to and watch "culture" (a lot of banging on drums and some dancing). Unfortunately this is done mainly in near darkness, which somewhat stymies attempts to capture great images. I go prepared to shoot video with my second camera, and that works quite well. We have another nice meal (fine except for "cauliflower cheese" which was about 90% chilli :(). Afterwards we go up to a view point and photographed the Dzong where I had the problems yesterday. Ironically I am known as the guy who never uses his tripod, but because I had brought it to video the dancing, I was almost the only person to have one for the night photography. Excellent.
Tomorrow we move on again, to the even warmer bit of Bhutan.