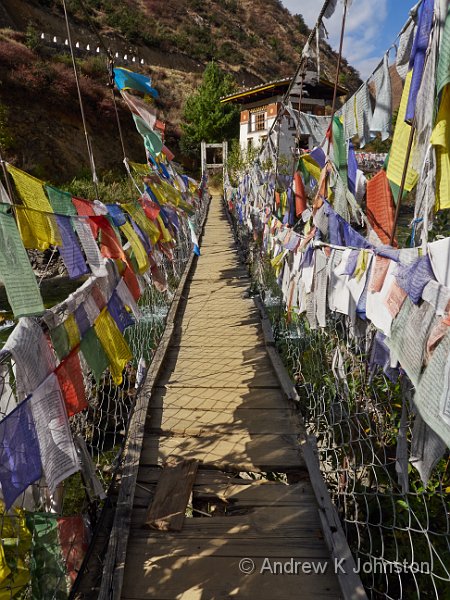 Camera: Panasonic DMC-GX8 | Date: 15-11-2015 09:30 | Resolution: 3888 x 5184 | ISO: 200 | Exp. bias: -66/100 EV | Exp. Time: 1/160s | Aperture: 10.0 | Focal Length: 12.0mm | Lens: LUMIX G VARIO 12-35/F2.8
6am:
I've just woken up and we have to repack and get out early, and there are no lights, so while I can see to type (and the Wifi is working, oddly), I can't see a bloody thing otherwise. This is going to be a challenge…
Later
After reviewing the age of the participants (I'm the baby, by a couple of months), our shapes and a somewhat light breakfast, we decide that this is now officially the "Saga Weightwatchers Bhutan Photo Experience" 🙂
First stop of the day is the beautiful Tacho Gang Dzhong above a river, with two prayer flag-draped foot bridges over the river, and ladies picking ripe chillies in the field just below the main building. What the military call a "target-rich environment" 🙂 However it's an interesting challenge to take photos on a swinging rope bridge with two Bhutanese carpenters carrying large planks behind you.
We drive into the capital Thimphu (pronounced "tim poo") up a long winding river valley. I can see why they didn't put the airport there.
Late morning is taken up by a visit to Bhutan's largest farmers market. Interesting, but there's a limit to how many pictures of chillies I can take.
After lunch, we visit the Thimpu Dzhong. It's an enormous complex, next to the Royal Palace and parliament buildings. The trouble is it's so big, it's almost impossible to photograph cleanly, especially as there's no way to get up high. The temple interior is impressive, but feels like a large official church, contrasted sharply with the obviously loved place of worship we visited in Paro. There are also lots of rules about where you can and can't go, what you can and cannot photograph, but no signs to explain these. We all pick up multiple tickings off from the police manning the courtyard and entrances – I think I get the record at 5, but only because it's also getting cold and I put my hat on, forgetting that unless you're an official you have to be bare-headed in the confines of a Dzhong. Whoops!
The River View Hotel in Thimpu is clean and efficient, but lacks the charm of the Tiger Nest Resort, and has nowhere to sit socially. I think I'm going to enjoy the mountain resorts more.