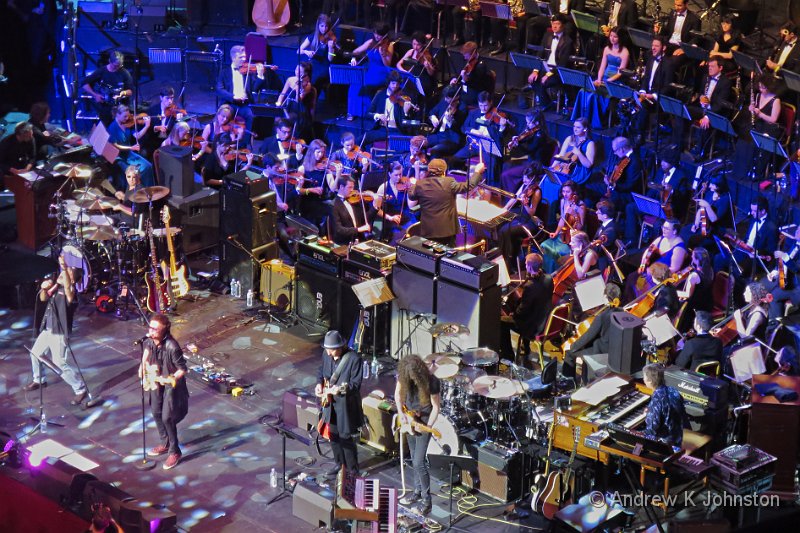 Camera: Canon PowerShot S120 | Date: 04-04-2013 20:41 | Resolution: 3785 x 2524 | ISO: 800 | Exp. bias: 0 EV | Exp. Time: 1/25s | Aperture: 5.7 | Focal Length: 26.0mm
Last Friday we attended a wonderful concert celebrating the life and music of the late Jon Lord, "musician and gentleman". This unique event filled the Royal Albert Hall, both in front of and the stage, which as befits the man who dedicated himself to merging orchestral and rock music, was largely filled by an impressive 80 piece orchestra, with only a small space at the front for the soloists and rock musicians.
After a few emotional introductions, the concert started with the first movement of the Concerto For Group And Orchestra, which led into a first half entirely devoted to Jon's orchestral music. The highlight was undoubtedly a stunning rendering of Sarabande. The last time we saw Jon Lord was at the Sunflower Jam 2011, when he did a spine-chilling version with a solo violinist. This was quite different, as conductor and musical arranger Paul Mann used the full power of the group and orchestra at his disposal, and re-cast Sarabande as a rolling battle between the strings, and everyone else.
The second half followed a very different vein, with a focus on Jon's rock music. Things got off to an excellent start with Paul Weller re-creating The Artwoods and running through a couple of their rocking 60s numbers – which I have on 8-track cartridge! Next up was the music of Paice Ashton Lord. Ian Paice and original bassist Bernie Marsden were supplemented by Don Airey, and a young Irish singer, Phil Campbell, who did great justice to the lyrics and vocals of the late Tony Ashton.
The focus then moved on to Deep Purple Mark 3/4, firstly with an orchestral version of Soldier of Fortune, then with the arrival of original bassist and backing vocalist Glenn Hughes, Bruce Dickinson joining on vocals, and a second keyboards slot filled by Rick Wakeman. This set included the ballads This Time Around and You Keep On Moving from the under-appreciated post-Blackmore album Come Taste The Band, for which Hughes and Lord obviously shared writing duties, but the crescendo was Burn. This was a great choice – a true Purple anthem which we will never hear from the current Glover/Gillan line-up, it showcases Hughes' falsetto vocals which are undiminished from the 70s, and it has two organ solos, one each for Wakeman and Airey… Add an enthusiastic full orchestra and, I swear, the Albert Hall's enormous pipe organ, and the sound was felt as much as heard.
Finally, the stage re-filled with the current Deep Purple line-up. They started their set with a couple of more recent tracks, including their own tribute to Jon Lord, Above and Beyond. They then got stuck into a selection of more classic tracks. Some, like Black Night, were played straight by the band, but appropriately most were re-cast to exploit the orchestral musicians. The two which particularly stick in my memory are Perfect Strangers, with the haunting riff perfectly suited to a large string section, and a unusual but very effective version of Lazy, with the lead guitar part played largely by a violin!
The culmination of the evening was an "all hands" version of Hush, featuring the full orchestra and for which many of the other solo musicians were invited back on stage. With more than 10 rock musicians and almost 80 orchestral ones this threatened to lift the Albert Hall's famous roof, and clearly great fun was being had by all. Those who have criticised Jon Lord's attempts to merge rock and orchestral music could not have been proven more wrong.
All in all, a fitting tribute to the great man.