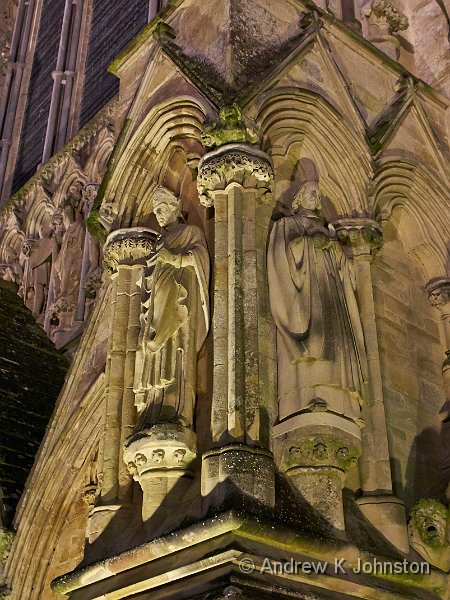 Camera: Panasonic DMC-GX7 | Date: 28-02-2014 18:28 | Resolution: 3214 x 4286 | ISO: 3200 | Exp. bias: -33/100 EV | Exp. Time: 1/13s | Aperture: 4.5 | Focal Length: 25.0mm | See map | Lens: LUMIX G VARIO 12-35/F2.8
Sadly, this isn't my own quote, but it is very apposite. I decided to break my journey back from Kingston Lacy in Salisbury, and took a quick walk before dinner down from my hotel (apparently the longest continuously operating hostelry in the world!) to the cathedral. I popped the Panasonic GX7 with its new 12-35mm lens over my shoulder, and I'm glad I did. The cathedral is floodlit, although not to excess, and I caught it when there was just a hint of blue left in the rapidly darkening night sky.
In the past a photo like the above could only have been created with a tripod and patience. No more. The GX7 produces fine quality at ISO 3200,and the stabilisation of the lens allows it to be hand-held down to about 1/10. I didn't even have to exploit the f/2.8 aperture, which would have given me another stop. Essentially we have now reached the point where if I can see something, my newer cameras can photograph it.
Next time, photography through the lens cap! 🙂