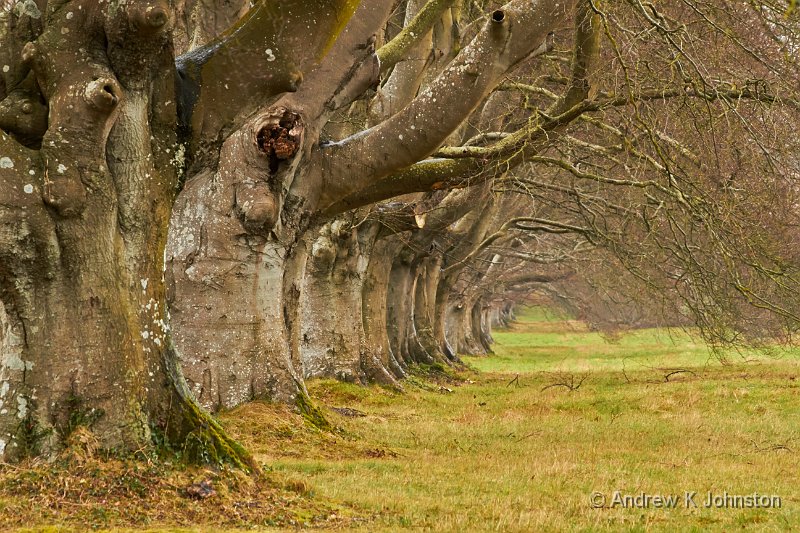 Camera: Canon EOS 7D | Lens: EF70-300mm f/4-5.6 IS USM | Date: 28-02-2014 14:55 | Resolution: 5184 x 3456 | ISO: 400 | Exp. bias: 0 EV | Exp. Time: 1/30s | Aperture: 10.0 | Focal Length: 180.0mm (~291.6mm) | See map | Lens: Canon EF 70-300mm f/4-5.6 IS USM
I had a day off today from work, chasing contracts and Android development, to focus on photography and writing. The core was a workshop with the famous and venerable landscape photographer Charlie Waite, at the even more famous and venerable Beech Avenue near Kingston Lacy.
It was a good group, and we had an excellent day of discussion about photography, how we do it, why we do it, and what we need to improve. Unfortunately as for so many others this Winter the weather let us down, and we managed a grand total of about one hour on location, getting buffeted by strong winds, pelted by rain and battling a combination of ambient temperature and wind chill which together netted out the wrong side of freezing. I ended up using the same gear and clothing as I was using at the top of Kerlingfjotll ("Bitch Mountain") in Iceland – not what I was expecting from the Dorset Beech Avenue.
I went prepared for intensive activity, with a total of about 48GB storage across two cameras, or enough for well over 1500 shots. I took… 34, including about half a dozen "technical test shots". Ansel Adams used to complain that 35mm film photography was in danger of leading to an excess of quantity over quality of photography. Had he survived to see digital, while he would undoubtedly have mastered the technology quickly and effectively himself, his concerns about quality vs quantity would have multiplied manifold! At least today I kept the quantity down.
Quality did suffer a bit. I had hoped after Charlie's pep talk to go out with camera tripod mounted and take a slow, considered approach to photographing the avenue. Instead i took a series of fairly hurried "grap shots" mopping everything down between shots. Inevitably the rain has also reduced contrast and clarity of the trees in the distance.
However I'm not unhappy with this shot. The composition is exactly what I wanted, I like the tonal range (although ironically I've actually toned down the saturation!), and clarity is OK, if not perfect. I might try a black and white version as well…