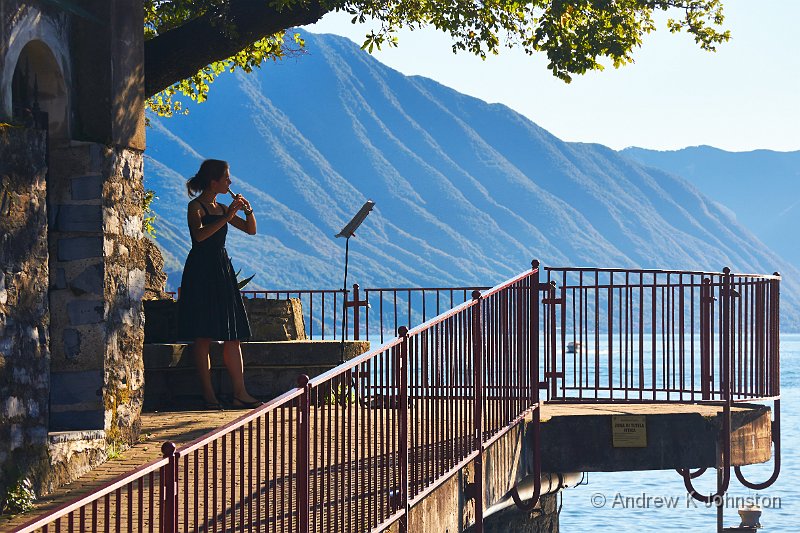 Camera: Canon EOS 550D | Lens: EF-S17-85mm f/4-5.6 IS USM | Date: 09-09-2013 15:36 | Resolution: 4883 x 3255 | ISO: 100 | Exp. bias: 0 EV | Exp. Time: 1/60s | Aperture: 8.0 | Focal Length: 83.0mm (~134.5mm) | See map | Lens: Canon EF-S 17-85mm f4-5.6 IS USM
Day 9
Early start for long drive to Lake Como, which involves crossing another couple of mountains. Getting out of Riva Del Gardo complicated by one way system and tunnels, and we end up half way down western shore of Lake Garda before we realise we've gone wrong.
Last mountain pass, the Passo Croce Domini proves a tricky sting in the tail. All other mountain roads have been well surfaced, a good two cars wide, and with barriers in all the right places, even if shown with a thin white line on the map. Despite the thick yellow line which normally denotes a "good secondary road" on the Michelin map, the pass is more like something out of The World's Most Dangerous Roads, with a crumbling surface, few barriers, and long stretches only a single car wide.
Although Italy is full of speed monitoring warnings, we've seen few cameras until we get to the bottom of this pass. Then the next 15 miles is completely saturated with them! The funny thing is that each has a symbol which looks remarkably like a British bobby in his pointy helmet – not obviously an Italian icon at all.
The remainder of the drive is faster but boring: the industrial towns to the north of the Italian lakes are completely dead on a Sunday, and the main road down the east of Lake Como now runs the whole way in a tunnel about a mile inland.
Finally get to Varenna on Lake Como. Very elegant hotel at La Villa Cipressi, with private gardens overlooking the lake. Great view from the room, but how is it vaguely acceptable in 2013 to light the room with a couple of dim bulbs in opposite corners, and have no power socket accessible for clients without having to unplug one of those few lights?
After dark we get all sorts of weather, sequentially. First continuous thunder and lightning almost like a light show over dinner, then torrential rain, but still no wind. The wind starts when we're in bed, and threatens to loosen the shutters. I told Frances the story of how a similar storm on Lake Geneva provided inspiration to Mary Shelly and she christens it The Frankenstein Storm.
However Day 10 dawns beautiful and clear, with blue skies and none of the haze we've been battling at other locations.
Food: 7/10
Photography: 7/10
Weather: 4/10 (for interest)
Day 10
Spent the day "ferry hopping" around the centre of Lake Como. We would have covered more ground but for a staggering display of Italian administrative excellence which left all the passengers for the lunch-time ferry from Belllagio queuing at the wrong pier while the ferry left from the other one.
Anyway, we had a nice wander around Belllagio, which is very elegant, followed by a longer than expected but excellent lunch. We managed a flying visit to Mennagio, which is more touristy, and we got great shots of Varenna, which has the most interesting architecture, from both land and Lake.
Photography: 7 /10
Food: 8/10
Administration: 1/10 (and that's being generous)
Day 11
Relatively straightforward drive back to Linate airport, despite a minor map-reading panic. Another enforced long lunch, this time due to computer problems at check in. Oh well…
10 minutes before boarding spot green trousers exactly the right shade, my size and on sale at otherwise hideously expensive designer "duty free" shop. Typical Italy – just when you think the administration is over they have a problem with the till! Managed to make flight, but light one receipt…