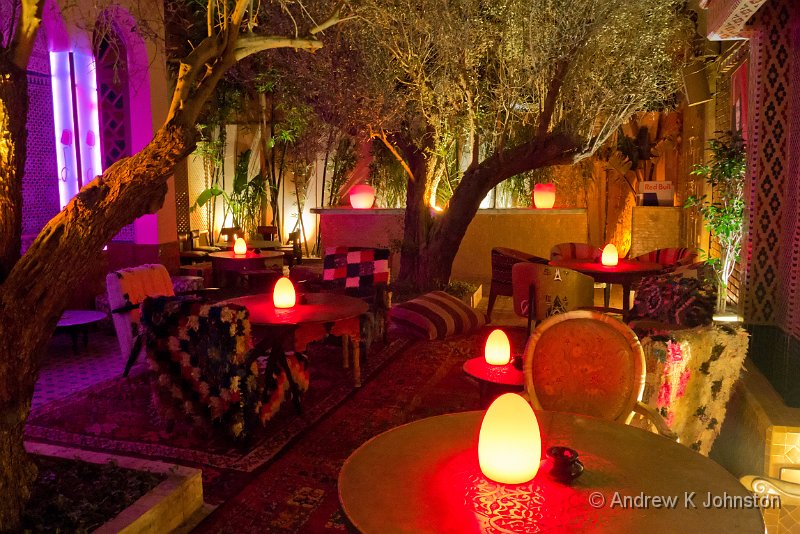 Camera: Panasonic DMC-GX7 | Date: 09-11-2013 22:03 | Resolution: 4592 x 3064 | ISO: 3200 | Exp. bias: 0 EV | Exp. Time: 1/10s | Aperture: 5.6 | Focal Length: 14.0mm (~29.0mm) | Lens: LUMIX G VARIO PZ 14-42/F3.5-5.6
Well the Morocco trip is finally here. In the words of Magna Carta (the band, not the power sharing document) "I'm sitting in an airport lounge, waiting for a plane." The weather at Gatwick is completely grey and depressing, but that will hopefully make the sunshine the other end even more welcome. One minor disaster so far – I'd carefully saved up my Costa points for a free coffee and cake, but there is no longer a Costa in the Gatwick North Terminal. Oh well – time to explore the other retail opportunities…
Damned retail opportunities! Now several hundred pounds lighter, and one new lens heavier. At least this was a more or less planned purchase – one I was already eyeing for my micro four thirds kit, and significantly less money with the VAT off. What is impressive is a lens smaller than my standard Canon zoom which reaches the equivalent of 600mm. It will be interesting to see how it performs compared with the brilliant Canon 70-300mm.
My kit for this trip is bit of an experiment. For the towns, I'm going to try and operate just with the Panasonic GX7. However I don't want to risk wrecking it in the desert, so I've also brought the Canon 7D for the later stages. Poor camel…
Another experiment which isn't really succeeding is having my boarding pass on my phone. Great idea, but… Firstly, you still have to go to BA's silly little check in machine, because now they want you to print your own checked baggage tag, not something you can do at home. Then every time you need your boarding pass you have to get your phone out, take it out of the cover, swipe in your personal security gesture, swear and swipe it in correctly, and then reverse the process. It wouldn't be so bad if this was limited to points like getting on the plane, but you now have to do this to buy a bottle of bloody water! Paper pass for me next time. 🙁
Later…
It makes a change not starting one of these travelogues with a complaint about the flight, but BA absolutely spot on today, followed by OK ride in through the suburbs of Marrakech. The Hotel Dellarosa looks fine. Now to find out about food.
Morning…
Decent night's sleep, albeit punctuated by occasional loud air conditioning compressors, and a local cockeral running 24×7. Got up at cock crow!
Slight problems posting blog: there are apparently two versions of the continental power socket, and my laptop cable is compatible with the other one; then Adobe insist on me buying another Photoshop Elements licence for my travel laptop, then it looks like Microsoft are going to pull the same trick, but fortunately that seems to go away.
With my first blog posted, I'm off to try and change some money, and then purchase a plug! Lee and the others arrive at lunchtime, after which serious photography begins.