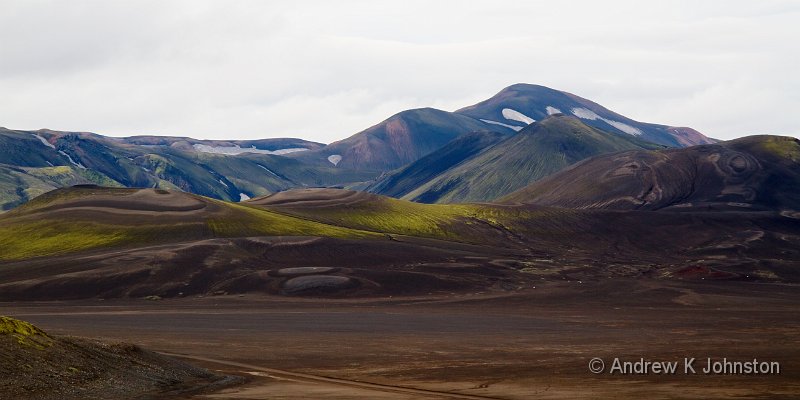 Camera: Canon EOS 7D | Lens: EF-S17-85mm f/4-5.6 IS USM | Date: 24-08-2011 10:48 | ISO: 100 | Exp. bias: 0 EV | Exp. Time: 1/100s | Aperture: 11.0 | Focal Length: 80.0mm (~129.6mm) | Location: Einbúi | State/Province: South | See map | Lens: Canon EF-S 17-85mm f4-5.6 IS USM
I haven't posted any photos since the end of our USA trip, but I have, finally, got back to sorting out my Iceland photos from last year. I thought, therefore, I would share this shot with you. It's from an un-named spot in the Fjallabak region. Fjallabak (pronounced fiat-la-back) means "back of the mountains", which is delightfully literal in this case.
I love the various circular swirls which are a recurring feature in this image. I'm not sure whether they all have a common geological cause.
I also did an HDR version of a similar shot, which brought out more of the sky detail but reduced the nice smooth feel of the mountain shapes. However, the black and white conversion looks quite dramatic, and with a slightly different crop works quite well: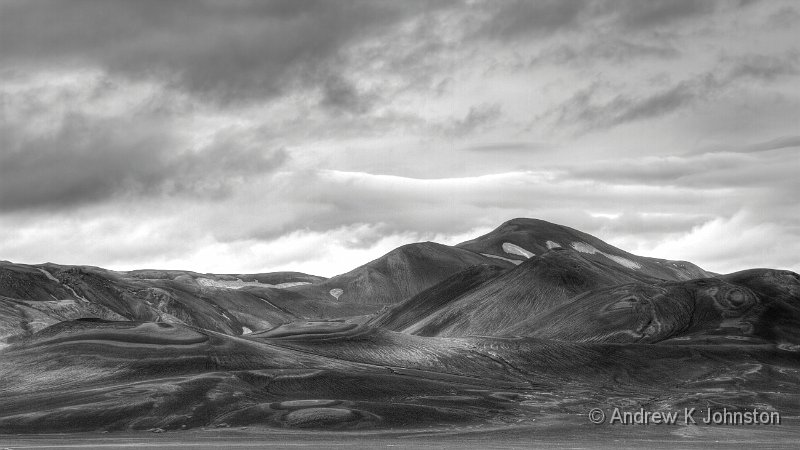 I need to do a bit more work on the HDR version – at full resolution there's a bit of odd "banding" in the sky – but I think it looks promising.
Which do you prefer?