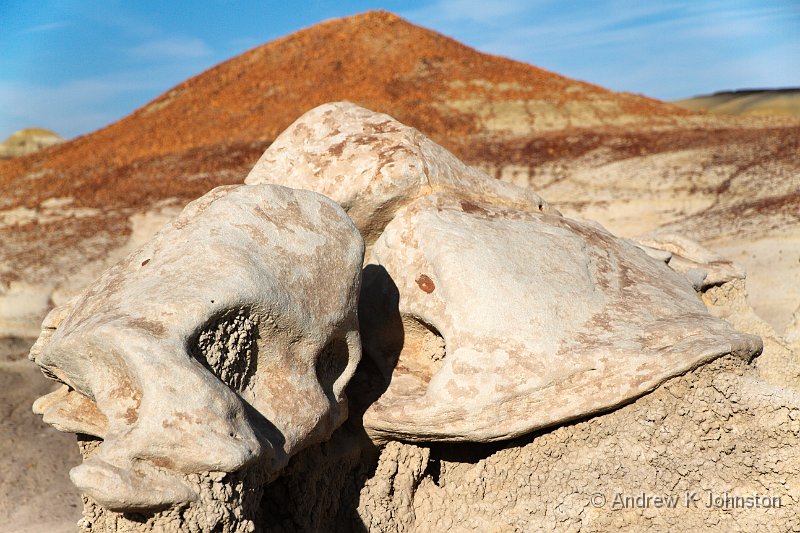 Camera: Canon EOS 7D | Lens: EF-S15-85mm f/3.5-5.6 IS USM | Date: 04-10-2012 09:17 | ISO: 100 | Exp. bias: 0 EV | Exp. Time: 1/800s | Aperture: 5.0 | Focal Length: 40.0mm (~64.8mm) | Location: 19T-342 Water Well | State/Province: New Mexico | See map | Lens: Canon EF-S 15-85mm f3.5-5.6 IS USM
Day 5
We had an early start today – up at 5.30 and a 50 mile drive to get to the "Bisti Badlands" for dawn. This was initially a bit disappointing, but then we bit the bullet and followed Martres' 2 mile hike route into the centre. This was absolutely the right decision – the rock formations are stunning. Frances was rather worried about getting lost and our bleached skeletons only being discovered in years to come, despite leaving an SOS note in the car, and tracking on multiple GPSs. However after being accosted by both German and Japanese tourists following the same route she relaxed a bit!
After a lazy afternoon at the hotel, we decided to try another of Martres' recommendations for the end of the day, and spent golden hour at Angel Peak, which is just a few miles from Broomfield. This proved to be yet more photographic gold, with dramatic Badlands lit by the fading sun, and then a sunset which turned the sky crimson above them.
Food at Broomfield's sole diner OK, but a constant battle to spot and reject the enforced carbs! I am not prepared to publish Frances' description of the guacamole – suffice to say it was inedible.
One delightful highlight – being treated like royalty by the young teller at Broomfield's Wells Fargo bank, and for her reward, she just wanted us to say "cheerio"!
Photography 10/10
Food 6/10
Animal count 4 (rabbits)