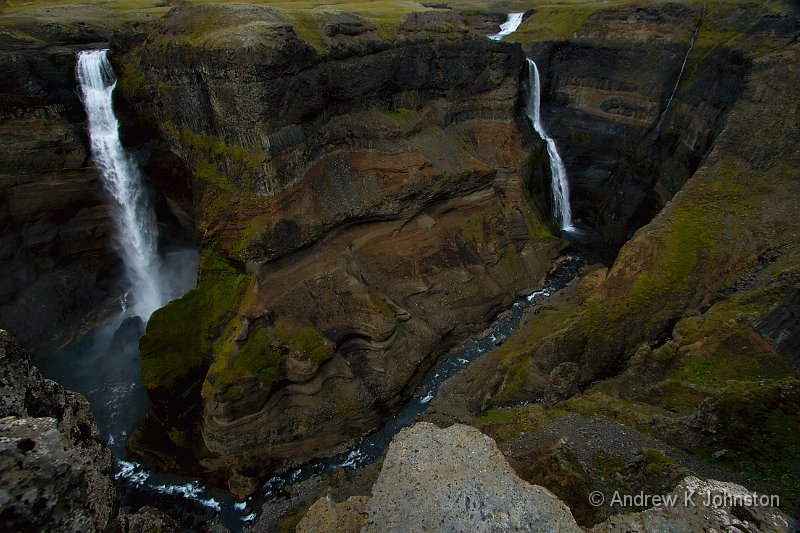 Camera: Canon EOS 7D | Date: 23-08-2011 14:09 | ISO: 100 | Exp. bias: -2 EV | Exp. Time: 1/60s | Aperture: 10.0 | Focal Length: 10.0mm (~16.2mm) | Location: Fossalda | State/Province: South | See map
With the original cinema release of Life of Brian the Monty Python team included a wonderful documentary spoof called Away From It All, which includes at one point the memorable line "Gondolas, gondolas and more ****ing gondolas". Tuesday's journey through Iceland could easily be titled "Waterfalls, waterfalls and more bloody waterfalls" 🙂
Don't think I'm being churlish – they were actually quite different, and it was a natural effect of driving along the edge of the highlands between the Hofsjokull Glacier (the one in the middle) and the mass which is the giant volcano Hekla (with the smaller but more recently troublesome Eyarfjallajokull), that we'd pass where several rivers drain rapidly onto the coast.
We started off visiting Gullfoss (= "gold waterfall") from the East side, which gave us quite a different perspective to the usual tourist view from the West. We waited ages for a shaft of sunlight to create a rainbow in the spray, gave up, and then just as we were leaving the sun came out. I was at the back of the line, and close enough to run back and get one shot! Score 1.
We then had a moderately long drive underneath a power line through a fairly empty rocky desert, but this was justified by Haifoss (= "high waterfall"), where twin waterfalls empty straight down about 1000ft into a narrow gorge. I used the famous "switch on live view, lie on your belly and lean out as far as you dare" method to capture the above shot. I was really in the zone, clicking away, and didn't realise that the rest of the group had already gone back to the cars until I could hear Finn shouting for me. Just as I was leaving a shaft of sunlight created another rainbow. Score 2.
A short drive took us to Gljufurleitarfoss (= "I haven't got a notion on this one waterfall" :)) which was a dramatic contrast to the very stark beauty of the first two, a real oasis. I had to check we hadn't gone through a stargate or similar – this green, lush, calm valley really didn't look like Iceland. I suppose the reason is the way it is sheltered almost all the way around by moderately sharp cliffs – in Britain it would almost certainly be Coombe or Cwm somthing.
Sadly after this it was back on the bare, rocky roads to our last stop, Dynkur (= "nor this one, but it probably isn't -waterfall"), which is another large, powerful and wide waterfall like Gullfoss. The hike in and out was quite interesting through dense moss, ferns and blueberries quite unlike the sparse vegetation elsewhere. Then it was off to the hotel via a shortcut which involved taking the jeeps through a quite deep and fast moving river. We got some great shots, and Hawk announced that "he loves his job". Excellent.
I'm writing this with the most wonderful rich dawn light outside the window. Sadly Hotel Highland is located mainly to service a big dam and hydroelectric power plant, and all I can see out of the window is some grass, a sheep, and a couple of power lines. Oh well…