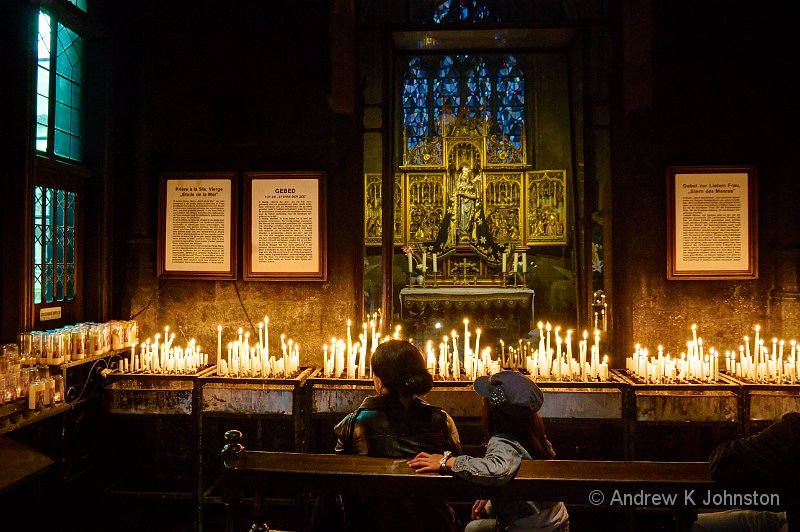 Camera: Canon EOS 7D | Lens: EF-S15-85mm f/3.5-5.6 IS USM | Date: 22-07-2011 17:16 | Resolution: 5160 x 3434 | ISO: 1600 | Exp. Time: 1/19s | Aperture: 5.59 | Focal Length: 17.0mm (~27.5mm) | Location: Mercure Maastricht Airport 3 | State/Province: Limburg | See map | Lens: Canon EF-S 15-85mm f3.5-5.6 IS USM
Our Summer city break this year was a short trip to Maastricht in Holland. No, I didn't have a treaty to sign, but it's still a charming old European town, with great architecture and great shopping. The high point was the last live music event of our Summer, a concert fronted by the Dutch violinist Andre Rieu. We didn't know quite what to expect, vaguely thinking about violin solos. What they actually provide is a bit like a Dutch "Last Night of the Proms", performed outdoors, with musical inputs ranging from a South African gospel choir to the current Three Tenors. Andre Rieu is just a great showman (I could follow much of what he was saying even though I don't speak Dutch), and seems to treat his beloved Stradivarius a bit like other "front men" treat their tambourine or harmonicas – mainly something to keep the hands busy!
Talking about things beloved, the photo is from the Chapel of Onzelievevrouw (Our Beloved Lady) Basilica. The chapel is an "island of serenity" in a bustling town, and many of the visitors stop to pause here. Apparently they get through roughly 1000 candles a day…
I really wanted to capture this photographically, but the challenges are substantial. Firstly, the dynamic range demands HDR. Even allowing the candle flames themselves to blow out the range must be 14 stops from the candle bodies to the shadows, and I didn't just want a white stripe across a black background 🙂 Flash would be completely unacceptable killing both the beautiful reflective mood, and also the very subtle lighting I was trying to capture. Using HDR gets to the next problem: movement. Not only are people coming and going all the time, but of course the camera flames themselves are moving. It wouldn't be acceptable to use a tripod, and I didn't have mine anyway. All these place a lower limit on the shutter speed, and require a fairly high "working speed" to capture the few moments when the other people are motionless.
This wouldn't matter in a typical outdoor situation or even a well lit interior, but away from the candle tips the light levels in the Chapel are very low. At ISO 1600 I was looking at f/5.6 and 1/20s for the "nominal" exposure. That's more or less the limit of my lens, and I wouldn't want a much wider aperture for this scene in any case. This in turn implied a challenging 1/5s shutter speed for the "+2" shot. I didn't want to crank up the ISO any further, as the noise would be unworkable in an HDR image.
Several attempts later, this was the best result. This Japanese couple paused just long enough to give me a nice composition without human movement. For some reason I can't get a high-quality result using all three frames – I must have moved the camera between frames slightly more than the software's limits – but the nominal and "-2" exposure combined well in Photomatix Pro using the exposure fusion method. Although there's not quite as much shadow detail as I hoped for I think it works, but it also illustrates the limits of current digital photography.