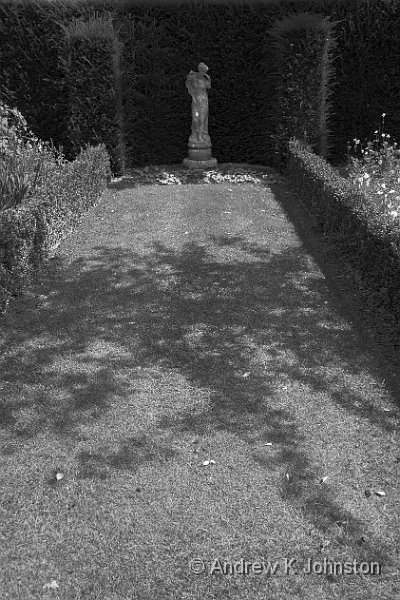 Camera: Canon EOS 550D | Lens: EF-S17-85mm f/4-5.6 IS USM | Date: 07-08-2011 14:11 | ISO: 200 | Exp. bias: 0 EV | Exp. Time: 1/50s | Aperture: 8.0 | Focal Length: 22.0mm (~35.6mm) | Location: Rolvenden Rail Station | State/Province: England | See map | Lens: Canon EF-S 17-85mm f4-5.6 IS USM
Some experienced photographers, particularly those with a background in traditional film photography, claim to be able to "see" a scene in black and white, visualising how a monochrome version might work. This focuses on the tonality, and ignores the colours in the scene.
I've been trying to do this, with a little success, and I'm quite pleased with this scene I captured at Sissinghurst last weekend, where I managed to visualise in advance the effect of the statue against the hedge, and the shadow on the lawn.
But I've realised I can only do this where the scene is dominated by a single colour. In this case, it was all different shades and tones of green (or grey). As regular readers and friends will know, colour is very important to me, and when the colour palette is richer, I find it very difficult to ignore my interest in the colours and focus only on the tones.
I wonder whether the best black and white photographers are just less interested in colour in normal life, or whether they can switch their vision of the colour on and off, something I can't do?