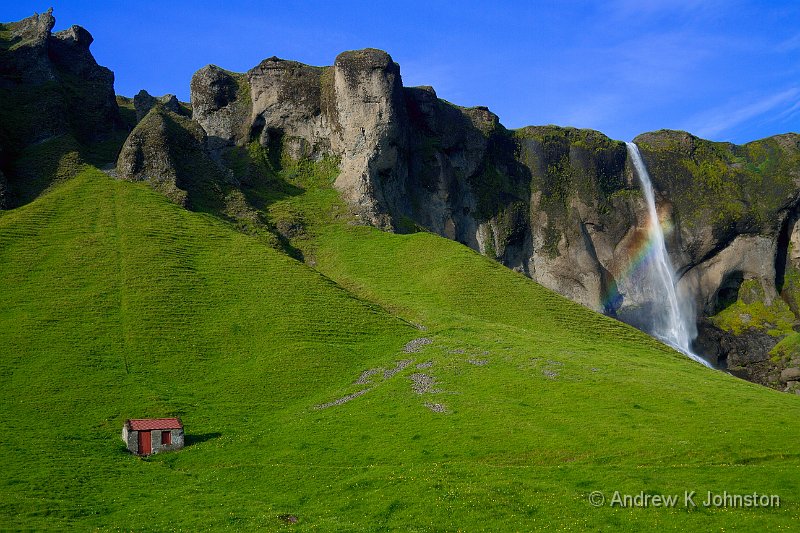 Camera: Canon EOS 7D | Lens: EF-S17-85mm f/4-5.6 IS USM | Date: 26-08-2011 18:10 | ISO: 100 | Exp. bias: -2/3 EV | Exp. Time: 1/30s | Aperture: 10.0 | Focal Length: 26.0mm (~42.1mm) | Location: Krossfell | State/Province: South | See map | Lens: Canon EF-S 17-85mm f4-5.6 IS USM
We continued our move south-east on Friday, moving from the highlands down to the coastal strip, and round Iceland's largest glacier, Vatnajokull.
We spent the morning at Landmannalaugar, which is a popular destination for all tours, so there were lots of other people, whereas we've been almost entirely on our own at most locations since leaving Gullfoss. I'm not sure I understand why Landmannalaugar is quite so popular. It's pretty, but not as dramatic as other sites we've seen. I suppose the fact that it's accessible on fairly easy roads and that it serves as a good jumping-off point for several hiking routes explains it. Anyway, we did a nice circular hike which would take a determined hiker about 1 hour, but kept a wander of photographers (is that the right collective noun? :)) entertained for about 3!
After that we drove south over the edge of the highlands, capturing various mountain streams on the way, and down to join the ring road near the south coast. Last stop of the day was the "Foss a Siva", a delightful waterfall / cliff / meadow combination in near perfect late-afternoon light. That's the shot for today.
The remainder of the drive was interesting for seeing the enormous Vatnajokull glacier gradually being passed on our left, while we travelled through the rugged Laki lava field. This is the outpouring from the 1783 eruption. It's about 40km wide and totals something like 16 cubic kilometres of lava, the largest from any single eruption in recorded history.
Saturday will be glaciers, glaciers and yet more glaciers, ending with a firework display on the glacier at Jokulsarlon.