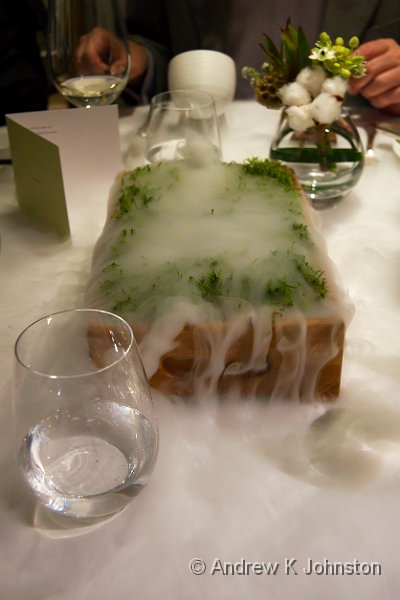 Camera: Canon EOS 550D | Lens: EF-S17-85mm f/4-5.6 IS USM | Date: 25-03-2011 20:59 | ISO: 1600 | Exp. bias: -2/3 EV | Exp. Time: 1/60s | Aperture: 5.0 | Focal Length: 30.0mm (~48.6mm) | Lens: Canon EF-S 17-85mm f4-5.6 IS USM
As part of my 50th birthday celebrations I was privileged to go for dinner at Heston Blumenthal's restaurant the Fat Duck in Bray. I don't know what Frances did to get the reservation, but I suspect threats of physical violence were involved 🙂
It's a remarkable experience: each course is carefully designed to stimulate the senses – not just taste, sight and smell, but in some cases touch and hearing too. For example the "fish course" was laid out on a layer of tapioca "sand" and egg white "foam", and was enjoyed while listening to the sound of gently lapping waves provided from an MP3 player secreted in a conch shell.
The surprise and delight factor is very high: the aperitifs came in the form of meringue-like foam poached in liquid nitrogen, which were then consumed in a single bite evaporating in the mouth to leave you "steaming" like a slightly damp dragon. The "Mad Hatter's Tea Party" included mock turtle soup creating by dissolving a gold watch in a cup of hot water.
The above shot shows the presentation of the jelly of quail, chicken liver parfait and truffle, which came on a bed of oak moss complete with dry ice "mist" gently wafting woodland smells over the table.
Heston's ingenuity at capturing tastes and smells is remarkable. One of the sweet courses was a set of "whisky gums", which successfully condensed the different tastes of five different Scotch and American whisk(e)ys into tiny gum sweets, ranging from a smooth Glenlivet to a fully peaty Laphroaig.
At the risk of being slightly coarse, I must share my favourite Heston quote. Something disagreed with several diners a couple of years ago, and the press interviewed some of those who had been affected. This included the boxing promoter Frank Warren. The hapless journalist asked the innocent question "did you notice anything unusual?". His reply: "What a stupid question. It's Heston bloody Blumenthal. It was all ****ing unusual!"
It's not cheap, and getting a reservation is a challenge in its own right, but if you have the opportunity grab it with both hands and enjoy!