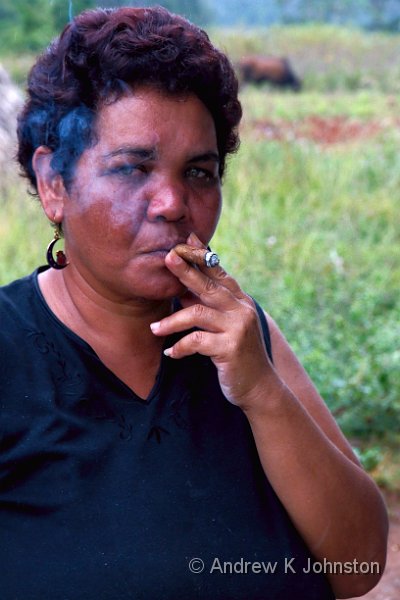 Camera: Canon EOS 7D | Lens: EF-S15-85mm f/3.5-5.6 IS USM | Date: 18-11-2010 15:52 | ISO: 800 | Exp. bias: -1 EV | Exp. Time: 1/250s | Aperture: 9.0 | Focal Length: 76.0mm (~123.1mm) | Lens: Canon EF-S 15-85mm f3.5-5.6 IS USM
As soon as I've downloaded a shoot from my cameras, I do a quick scan of the in-camera JPEG files, and usually mark about half of the images for deletion. Those which are irrecoverable go straight to the wastebasket, the rest go into an "others" file from which they will only be retrieved in exceptional circumstances.
When I first reviewed my day's shooting from around Vinales, I nearly gave this shot that treatment. It's not the clearest portrait I've ever done, and the low-contrast of the original meant it didn't look worth much effort.
However something made me keep it in the "to process" group, and I'm glad I did. The trick was a small crop, and a simple curves adjustment to make the smoke almost white against the woman's face. The increased contrast makes all the difference.
I'm a great believer in getting shots almost right in camera, when I can. However sometimes the image is hidden for want of a few simple adjustments, as it was in this case. It's a salutary lesson to me to not be too harsh with my initial filtering.
Iceland beckons, and I'm going to repeat the Cuba experiment and try and publish a daily photo blog of my trip. Expect to hear from me again later this week.