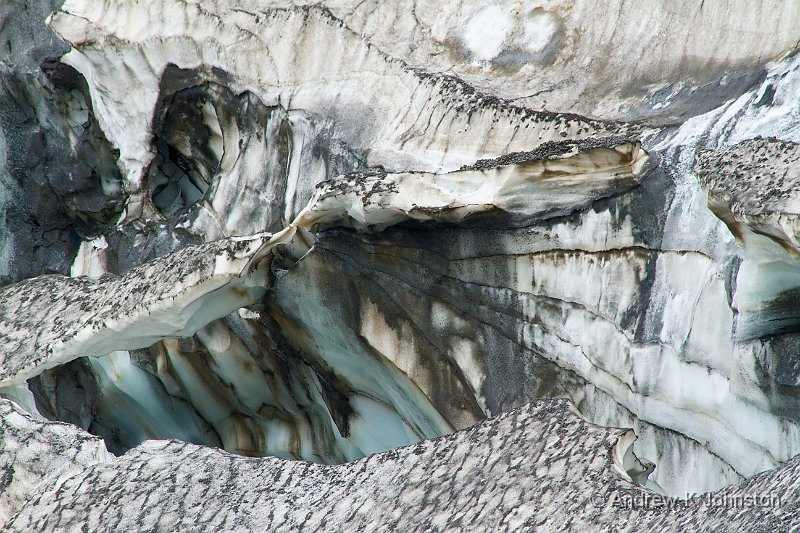 Camera: Canon EOS 7D | Lens: EF70-300mm f/4-5.6 IS USM | Date: 24-08-2011 15:26 | ISO: 400 | Exp. bias: 1/3 EV | Exp. Time: 1/160s | Aperture: 9.0 | Focal Length: 300.0mm (~486.0mm) | Location: Hrafntinnusker | State/Province: South | See map | Lens: Canon EF 70-300mm f/4-5.6 IS USM
Wednesday was a fascinating and rather eventful day. We started off gently enough with a group of locations around Landmannalaugar which were a combination of black hills streaked with almost fluorescent green moss, and colourful tarns surrounded by black, brown, green and red rocks.
After that, we headed for Hrafntinnursker (="Obsidian Skerry"). At last we were off roads which could be handled by any reasonably capable car and into an environment really suited to the super jeeps. The first highlight was a small hilltop half-way up the mountain which has a commanding panoramic view of much of southern Iceland, including ten of the country's thirteen or so glaciers.
A mile down the road was a deep river and Haukur decided it would produce good promotional material to have our jeep going through it while he took pictures. This started well enough, but we suddenly hit a deep patch, the jeep canted over to 45 degrees and the engine cut out. The other jeep was back down the hill remarkably quickly and towed us out, but not before my corner of the car had started to fill with water (the level of the river was only a couple of inches below my window). We had a few wet feet, but the cameras were dry! The guys decided to leave the car and have it checked by a mechanic before attempting to restart the engine (turning a flooded diesel can cause a lot of damage) and we continued in a single jeep.
We eventually got to Hrafntinnursker, which turned out to be an absolute photographer's heaven, and the fact that we had to spend some extra time there while the jeeps were sorted out was a benefit rather than a hardship. In one small area you have the edge of a melting glacier, a load of very active geothermal vents, a mixture of rocks including large quantities of obsidian, and both hot and cold running water! This is genuine "fire and ice" as per the tour's title.
The second event of the day was of my own making. I tried to cross a small stream and as I placed my foot on the far bank it crumbled and I went tumbling. I was unharmed, and I managed to protect the camera so that although it got scuffed on one corner no worse harm was done. What's a well-used camera without a couple of battle scars anyway? However, my clothing did not come off so well, and my brand new North Face waterproof trousers suffered what is described in engineering terms as "catastrophic structural failure" (ripping from the waist band to halfway down the thigh). Fortunately the Levis underneath were unaffected,so modesty was preserved, but there was a sudden and distinct shortcoming in the insulation department!
So great photography, but I'll be pleased if tomorrow is as photogenic but somewhat less eventful.