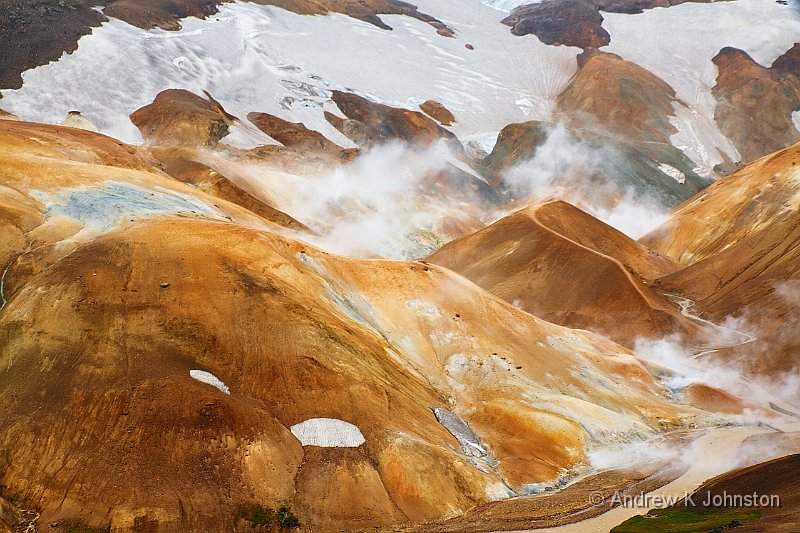 Camera: Canon EOS 7D | Lens: EF-S15-85mm f/3.5-5.6 IS USM | Date: 22-08-2011 12:59 | ISO: 100 | Exp. bias: 2/3 EV | Exp. Time: 1/80s | Aperture: 10.0 | Focal Length: 31.0mm (~50.2mm) | Location: Blákvísl | State/Province: South | See map | Lens: Canon EF-S 15-85mm f3.5-5.6 IS USM
You don't realise quite how empty the interior of Iceland is, or just how much time you're going to spend bouncing over unmade roads through deserts of rock and mud. It's not surprising that NASA test their extra-terrestrial rovers here. Fortunately the scenery when you get to each location more than makes up for it.
We started Monday by driving up to Kerlingfjoll (which roughly translates as "Bitch Mountain" :)). This is an amazingly colourful geothermal centre reminiscent of The Artists' Palette in Death Valley, only with ice, rain, snow and steam all mixed in! The only problem was that it was blowing a gale, tipping with rain and only just above freezing. I braved it with my new raincoat, Kata rainbag and cheap filter on the camera, and got some great shots. One of the rest of the party had a little Canon in a waterproof housing (like I use for snorkelling) which was maybe slightly OTT but worked well, and her husband had a rainbag like mine, but everyone else gave up on photography which was an enormous pity.
After lunch we travelled up to Hveravellir ("Hot Field"), to see another geothermal display, this time a mix of hot pools and small geysirs. On the way back we diverted up to the Langjokull glacier, at a point where the jeeps could actually drive up onto it. This was a brilliant experience.
Unfortunately at this point I realised that my main 15-85mm lens was starting to play up, and my photos from the glacier aren't that great. I don't know whether it's the vibration, the moisture or just a fault which was waiting to happen, but I'm getting a nice soft focus at the top/left of the picture, whether I want it or not :(. Fortunately I also have the 17-85mm as a spare, so hopefully this won't put too much of a dent in proceedings. Yesterday also saw the possible demise of one of the batteries for the 7D, but I won't know until I've recharged and re-tested it.
I'm going to start building up a list of tips for a trip such as this, but a spare everything, a rain bag and a cheap filter you don't mind wiping with anything to hand are all essential!
Hotel Geysir may look nice, and dinner was great, but the rooms are a bit chilly and there's really nowhere to type on the PC, so I'll stop here… More tomorrow.