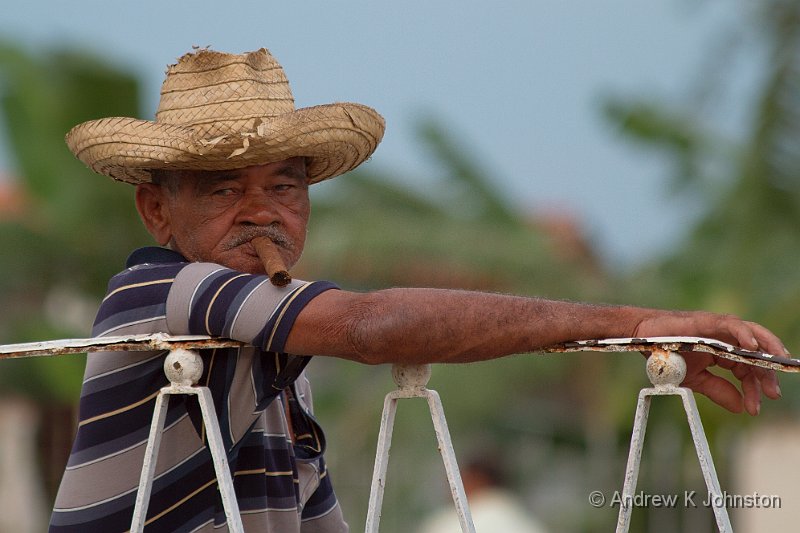 Camera: Canon EOS 7D | Lens: EF70-300mm f/4-5.6 IS USM | Date: 17-11-2010 22:13 | ISO: 200 | Exp. bias: 0 EV | Exp. Time: 1/250s | Aperture: 5.6 | Focal Length: 300.0mm (~486.0mm) | Lens: Canon EF 70-300mm f/4-5.6 IS USM
After a long and slightly boring drive through Western Cuba, we've moved to Vinales, a wonderful valley between two ranges of low, rounded mountains known as "Los Organos", because Spanish sailors thought the eroded limestone looked like church organs.
Vinales itself is a busy little town which pulls off the dual role of agricultural town and local tourist hub remarkably well. There are lots of people going about their business, some by tractor or horse and cart, and the centre of the town is mainly about tending to their needs, but with a few galleries, bars and tour offices to support the tourists. The people milling around the centre appear to be there either because they have business, or as a natural stop at the end of a busy day, not because they have nothing better to do, and it's much more pleasant because of that.
Regarding the title: OK, I have bought a Che Guevara cap (naturally !), but this is more about photographic than sartorial style. One of our party, Ian, is consistently demonstrating a remarkable ability to get anyone to pose for him. Last night, I learned that he works with the homeless, so this is his professional skill showing through. My courage is still rather lacking by comparison, and even when I succeed I'm not sure the close-ups do justice to some people. Therefore I've reverted to my trick of trying to get candid portrait shots at a distance with a long lens. In an environment where people don't mind being photographed and aren't too self-conscious about the tourist cameras, it's a way of getting some great shots with much more natural poses. Also who needs an f/1.4 lens to control depth of field, if you're working with a telephoto at 20m!
The Hotel Los Jazzmines has a great location looking out over the Organos and the valley floor. The sunrise shoot today looks like being the simplest on record: open the window onto the balcony, click, go back to bed!
(Update, 7:07: while I battle with the slowest, most locked down PC on record, Vinales Valley is full of thick fog, visibility about 20m. No sunrise today!)