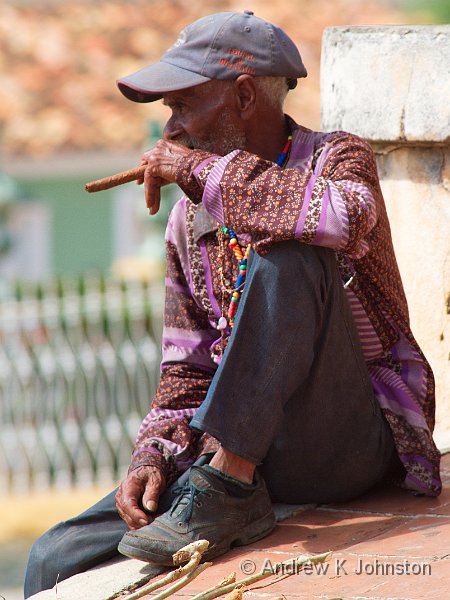 Camera: Canon EOS 7D | Lens: EF70-300mm f/4-5.6 IS USM | Date: 22-11-2010 17:35 | ISO: 100 | Exp. bias: 0 EV | Exp. Time: 1/160s | Aperture: 8.0 | Focal Length: 300.0mm (~486.0mm) | Lens: Canon EF 70-300mm f/4-5.6 IS USM
"Photographer's paradise" is probably putting it far too strongly, but Cuba does provide easy access to a great range of material in almost every genre: fashion and international sports might be a bit of a challenge (unless you bring some glad rags with you :)), but everything else is well served.
That said, conditions are not always quite what you'd expect, so I thought it would be useful to round off my Cuba Travel Blog with a few observations on the photography itself, and some advice to potential photo trippers.
A large part of Cuban life plays out on the street, and much of the photography is therefore street photography, focused on the colourful people, cars and buildings. I must admit that before the trip I hadn't fully realised that.
Now there's nothing to stop you doing such photography with a full sized pro camera, lenses the size of baseball bats, and a 6′ tripod. A couple of my trip mates did precisely that. No-one takes much notice of tourists with big cameras, and you'll be perfectly safe. However, it's an awful lot to carry round all day, it will attract pestering, and some locations and subjects are now starting to charge a "big camera" premium, e.g. 2 Peso rather than 1 Peso admission, triggered usually when they see the tripod.
So I'd advise you to think about travelling a bit lighter. I don't carry a tripod except when I know I'm going to be working in very low light, and try and have my camera in my hand rather than round my neck. I used my large backpack only when travelling: once at each location I decanted my kit into my ancient Tamrac shoulder bag. Although only 26x20x20cm I found that this could comfortably carry my prosumer DSLR with 3 zooms, a 25-33cl drink, tripod plate, table-top tripod, cleaning materials, filters, 1 cigar (unwanted gift :)) and some soap! To carry my tripod I used a dedicated tripod strap and slung it over the other shoulder.
At the risk of offending the photography gods, I don't think a lot of the standard advice about the best light applies in photographing Cuba. The narrow streets are like slot canyons: you get good even light when sun is high, but at the ends of the day the streets are dark, or patchily lit with very high contrast unless the sun is directly in front of or behind the camera, each of which brings its own challenges. On the other hand the bright colours work well in any light, even in the middle of the day, although a polariser is usually helpful.
The after-sunset glow does bring up the colours on some subjects, and there are some night-time possibilities, but very much small vignettes rather than big vistas. There's simply not enough street/building lighting for those. Don't expect a picture of lights on the Malecon looking like the shore in Montreux or Morecambe!
If you're one of those people who likes photographing decay, then Cuba is your oyster. Crumbling structures, rusty cars and badly patched paint and plaster abound. If, like me, you're more of a "glass half full" person then the challenge to find and portray the current beauty is a bit greater, but not insuperable.
Entertainment, in the form of music, dance and art, is everywhere you go, and some of it is very photogenic. The entertainers don't seem to mind having their photos taken as long as you make a donation when they pass the hat round. Lighting can be a challenge: at night or indoors you will often be right on the edge of high ISO and acceptable slow shutter speeds, and will have to use flash for any action. Any artificial lighting tends to be uneven and strongly coloured, with a tendency to blow out the red channel, so shoot RAW and expect to have to make substantial colour adjustments in your RAW processor.
I took about 90% of my shots with the Canon 7D and 15-85mm IS lens. Most of the rest were with the 70-300mm lens, and I can see the day coming when I don't need a separate wide-angle zoom, but the 10-22mm did get used a few times. I also took a nice 50mm f1.4 lens, but found I wasn't using it at all and sold it to one of my trip mates. I'm getting used to the weight of the 7D/15-85 combination, but it is a very heavy solid lump. You wouldn't lose much capability with something like a Canon 550D and 17-85mm lens, which is what I took as my spare kit, or even something like a Leica or one of the new EVIL cameras.
Although I took most shots with the mid-range zoom, my 70-300 is still my favourite lens. Beyond its proven ability for action work and as a general telephoto, it's probably the best lens for candid, long-distance portraits (3-20m range), like the one above. Optically it's excellent, often compared favourably with Canon's much bigger and costlier "L" zooms, but the small size and light weight, combined with very effective Image Stabilisation, mean that it's much less obtrusive, and I can hand-hold it down to shutter speeds of a few tenths of a second. And who needs to do all this wandering about business, when you can take shots like the one above sitting at the bar with a Bucannero. 🙂
Make sure you take lots of film or memory. I took an average of 200 shots or 4GB / day. The keen street shooters in the party were filling in excess of 16GB / day!
Finally, I can heartily recommend Lee Frost of Photo Adventures as a tour leader. He got us to interesting places at the right times, led an enjoyable group, and everything under his control worked well. He really can't be blamed for the Cuban failings on internet access and breakfast crockery :(. Recommended.