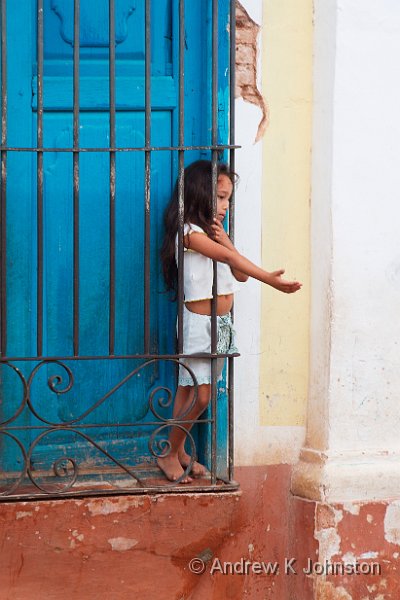 Camera: Canon EOS 7D | Lens: EF-S15-85mm f/3.5-5.6 IS USM | Date: 21-11-2010 18:40 | ISO: 100 | Exp. bias: 2/3 EV | Exp. Time: 1/10s | Aperture: 10.0 | Focal Length: 85.0mm (~137.7mm) | Lens: Canon EF-S 15-85mm f3.5-5.6 IS USM
I took this picture almost on auto-pilot, and was immediately torn about whether to keep it, or delete it. Was I guilty of exploiting the little girl?
However, what happened next was interesting, and a tale worth telling. Another tourist approached the little girl, and offered a coin. Suddenly the girl's mother appeared and grabbed the coin. As soon as the tourist had moved on, the girl was pushed back out into the window again. This obvious exploitation raises some uncomfortable questions, like whether that was really their home, or indeed was the woman really the girl's mother? Or was this a Fagin-like exploitation of an innocent youngster in a convenient location on Trinidad's main square?
Those of you who know me will realise that such tactics tend to back-fire dramatically with me. I decided to focus my gifts and tips on those who weren't asking for anything. I gave away my last bars of soap on an "random acts of kindness" basis, to old ladies on the street. Just seeing their faces light up was reward enough. Much better.