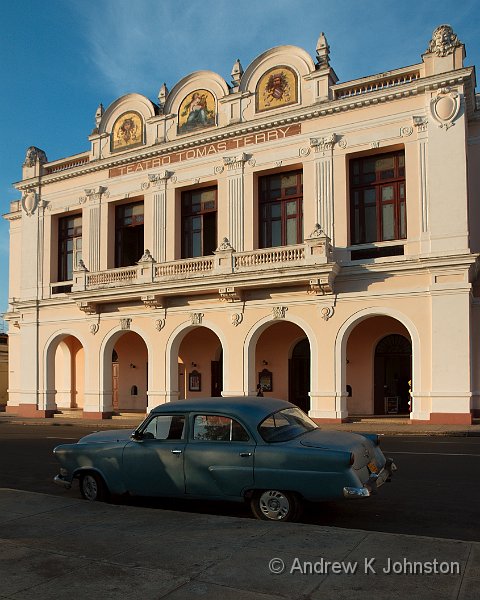 Camera: Canon EOS 7D | Lens: EF-S15-85mm f/3.5-5.6 IS USM | Date: 19-11-2010 22:43 | ISO: 200 | Exp. bias: 0 EV | Exp. Time: 1/100s | Aperture: 8.0 | Focal Length: 16.0mm (~25.9mm) | Lens: Canon EF-S 15-85mm f3.5-5.6 IS USM
I've found the right collective noun for photographers: it has to be a "diffraction", because they do have a tendency to spread out from a point. Like setting a group of small dogs loose in a wood full of squirrels…
The drive down from Vinales to Cienfuegos was long, boring and bumpy, not helped by a driver with the bladder of a camel. What is remarkable is how empty central Cuba is: only a very small fraction of the land visible from the motorway is under cultivation. This is in sharp contrast to every other Caribbean island I've visited, where almost every available square foot has some productive use, even if it's only a couple of goats or banana plants. I expected to see mile after mile under sugar cane or similar, but instead you see a lot of scrubland.
Then, suddenly, about 20 miles from the south coast, things change. There's rich and varied agriculture, and the architecture changes to what I think of as "generic Caribbean": small square houses with flat or shallow pitched roofs.
Finally, Cienfuegos is different again: there are sprawling suburbs with the 60s blocks beloved of Communist countries, but the town centre and sea-front have a certain elegance, and are at least a little reminiscent of other Victorian sea-side resort towns, albeit without the big seafront hotels and casinos. It may still be poor, but it's a definite notch up from Havana or Vinales.
Friday's picture is of the Theatre in the central square. It's not a misprint, but a very odd coincidence: Tomas Terry was a dodgy posh bloke who built a theatre, and of course Terry Thomas was an actor who played dodgy posh blokes.