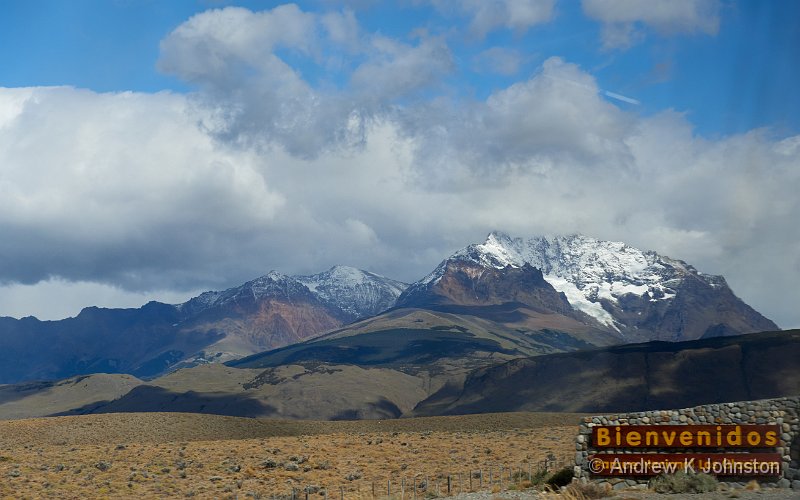 Camera: Panasonic DC-G9 | Date: 14-02-2023 12:15 | Resolution: 5234 x 3271 | ISO: 200 | Exp. bias: 0 EV | Exp. Time: 1/400s | Aperture: 6.3 | Focal Length: 35.0mm | Lens: LUMIX G VARIO 35-100/F2.8
We spent the morning of the second full day driving from El Calafate to El Chalten, which will be our base for four days. The road was remarkably flat, mainly straight and moderately boring for much of the time, but as we closed on El Chalten some very high mountains, particularly 3405m Mt Fitzroy, started to loom large over us. If Richard can deliver on his form from previous trips here these should be the focal points of some very dramatic images.
El Chalten is one of those tourist bases which is expanding almost as you watch it, and very busy. Richard and Alejandro, the local guide, had plans for lunch at a venue they usually use, but Plan A failed because there was no space. Plans B to about E also failed in rapid sequence. We did eventually get a nice lunch, but perched on very precarious bar stools and at about 3pm.
After lunch we went to case the joint for tomorrow's dawn shoot, as it's a somewhat precarious and very, very windy location overlooking the river as well as Mt Fitzroy. I'm a big bloke but I was struggling to stay upright. How we'll get on in dawn light if the wind is as bad, or worse, tomorrow morning, remains to be seen. We are already down one hat as a group.
We had a short break for tea. I decided to "just get a sandwich" and ended up with a toastie about the size of my head with about 400g of meat in it. I managed half, with another bite after sunset.
As Richard promised, the sunset shoot was at a quieter location, but the primary subject, long exposures of reflections on water, really didn't appeal. However turning around I was treated to some great patterns of light as the sun set on the mountains.
First dawn start tomorrow. Wish us luck!