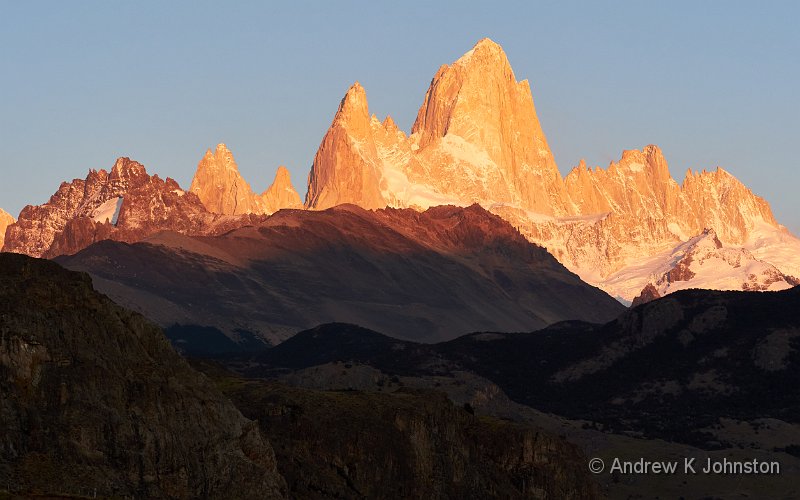 Camera: Panasonic DC-G9 | Date: 16-02-2023 07:09 | Resolution: 5017 x 3136 | ISO: 400 | Exp. bias: -33/100 EV | Exp. Time: 1/125s | Aperture: 7.1 | Focal Length: 54.0mm | Lens: LUMIX G VARIO 35-100/F2.8
Richard's plan for this morning was a hike of 1.5-2 hours in each direction, with a significant vertical element. With my hip and knees complaining a bit I took the better part of valour and with Nigel opted for the alternative, shooting from an overlook encompassing both the mountains and town. Before dawn we were rewarded with the mountains glowing pink balanced by the lights of El Chaltén.
As the sun rose the scene changed with bright reds and oranges creeping down each peak until the whole range was bathed in fiery colours.
After breakfast 1 of 2 we took the bus up to the trail head to meet the rest of the group on their return. It became apparent that the walk had been longer and harder than expected, with several who yesterday were bouncing around now moving as stiffly as myself, so I definitely made the right call. While I was waiting I stalked a rabbit through the grass. The latest "animal aware" adjustments to Panasonic auto-focus really are very good:
Breakfast 2 of 2 was at the Wafelria, which is exactly what it sounds like. Apparently it's now a tradition for after the hike. At least some of the group had already worked off the calories…
Argentinian finances continue to be a mystery to me. In fact I wouldn't be surprised if they continue to be a mystery to the Argentinian Finance Ministry! There are two exchange rates, the official one, and the "other official one", for tourists.
If you exchange cash, US$ say, you can easily get almost twice as many Pesos as at the airport change desks. Any tourist-facing business can do this, so you can pay for a meal with a $20 bill and get almost as many Pesos in change as if you had changed it at an official bureau. So far not so unusual, especially if you are old enough to have travelled to Eastern Europe before the fall of communism.
But in these days of electronic money it gets weirder. Pay a hotel or restaurant bill with a card and it initially goes through at the primary rate, which feels somewhere between "about right" and "a bit expensive" by UK standards.
Then a few days later a second transaction turns up on your card account, a rebate of nearly 50% to correct it to the tourist rate, and suddenly things feel very cheap. I assume this is an attempt to prevent the Peso just being replaced by a hard currency such as the dollar, but I'm not sure I see it ending well. At least I can stop worrying about my purchases here.
Photographic trips are hard. I spent the afternoon at "Pangea", drinking beer and writing my blog, then stopped so I could go and get an early dinner at La Cervezeria, which as the name implies also involved drinking beer. I had to stop before I needed stabilisation, let alone my images!
The sunset shoot started off looking very unpromising, but suddenly just at the right time there were some odd breaks in the cloud and we got a handful of great shots. It really is worth sticking with it until the light is completely gone in such a location.