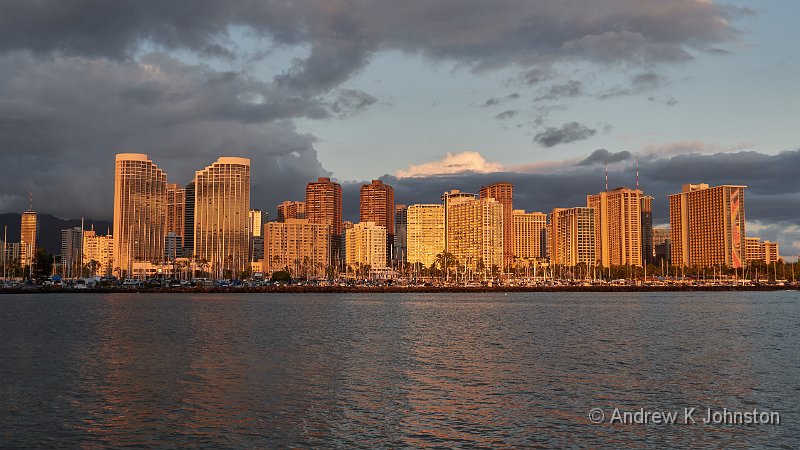 Camera: Panasonic DC-G9 | Date: 06-10-2019 18:10 | Resolution: 5106 x 2872 | ISO: 250 | Exp. bias: 0 EV | Exp. Time: 1/60s | Aperture: 6.3 | Focal Length: 16.0mm | State/Province: Moana, Honolulu, Hawaii | See map | Lens: LUMIX G VARIO 12-35/F2.8
Day 14
Waimea is an odd place. After a lazy morning we go out in search of a coffee. The tiny cinema opposite has updated its programme. Apparently this week it's "Angry Bird 2", showing on 5 days, "Sat cloed". There are two obvious inferences: they've run out of Ss, and they are closed on Saturday. However neither is supported by the evidence – last week the film was "Hobbs and Shaw", and later on (on Saturday evening) there is plenty of evidence of punters arriving…
We walk the length of Main Street looking for a coffee shop in increasing desperation. We're just about to give up, when we realise the very last building has about 10 signs saying "coffee" or "expresso". It's only missing a Terry Gilliam hand in the sky pointing down.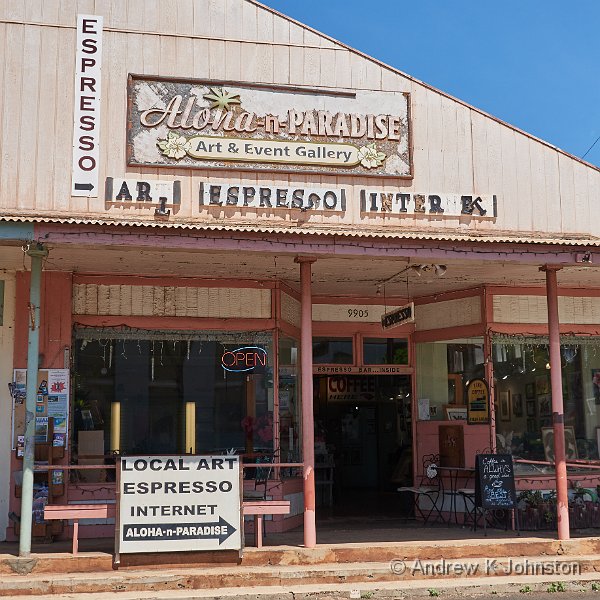 Can I get a coffee here? (Show Details)
Camera: Panasonic DC-G9 | Date: 05-10-2019 12:18 | Resolution: 3674 x 3674 | ISO: 200 | Exp. bias: 0 EV | Exp. Time: 1/500s | Aperture: 5.0 | Focal Length: 21.0mm | State/Province: Waimea, Kauai, Hawaii | See map | Lens: LUMIX G VARIO 12-35/F2.8
The lady who runs the coffee shop cheerfully announces to us that she's an old hippy but we could probably have guessed… However she then goes on to explain that before she dropped out she was a professor.
I am about to say "What were you a professor of?" but some sixth sense kicks in, and it comes out "Of what were you a professor?"
"Comparative linguistics."
"I'm glad I just got the grammar right then."
"Don't worry. I used to correct my husband's love letters to me."
The conversations we have on holiday.
Day 15
We have a very quick and efficient transfer to Oahu. After the other islands Honolulu is a bit of a shock, but the busy freeway takes us to within a few hundred yards of our hotel. This turns out to be a rather twee historic guest house up on the hill well above the bustle of the city.
The check in process is slightly fraught as the hotel seems to be staffed entirely by an oriental family each of which commands a different subset of the English language, and Frances is also somewhat concerned about the reports of multiple dogs and cats. However in practice the only real problem is a very low door into the bathroom which leads to a few "ow, bugger" moments.
The hotel is near the University and we get lunch at a nice student café, followed by a second course at McDonald's when Frances gets a sudden craving for an apple pie.
After settling into our room we go down to the Ala Moana Beach Park, to see what's going on and to case the joint for catching our tour in the morning. The recce proves to be worthwhile as the Ala Moana Centre covers multiple blocks and houses a mall of over 300 shops.
The beach front is a hive of activity. We see fishing, surfing, jogging, family parties and multiple weddings or photo shoots taking advantage of the late afternoon light. We get a great sunset and in particular dramatic golden light on the big buildings behind Waikiki Beach.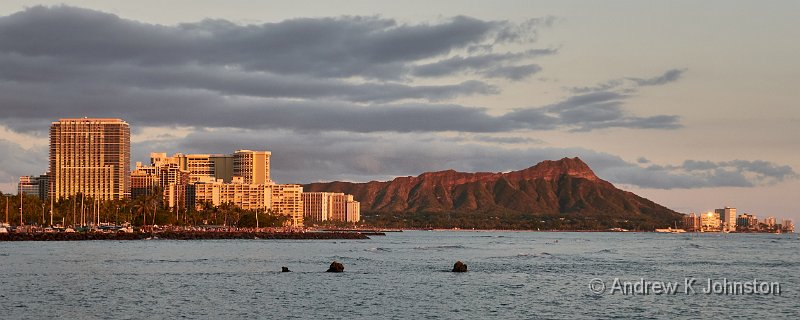 Waikiki Beach at sunset (Show Details)
Camera: Panasonic DC-G9 | Date: 06-10-2019 18:13 | Resolution: 5058 x 2023 | ISO: 500 | Exp. bias: 0 EV | Exp. Time: 1/60s | Aperture: 6.3 | Focal Length: 30.0mm | State/Province: Moana, Honolulu, Hawaii | See map | Lens: LUMIX G VARIO 12-35/F2.8
Back in the shopping centre we go into Macy's and look for their food court. There's something called "The Bakery", which suggests a couple of old ladies with a stack of sandwiches and a coffee machine, which would do fine. However this turns out to be a lively full service restaurant which does a great prime rib for very little money. Result.