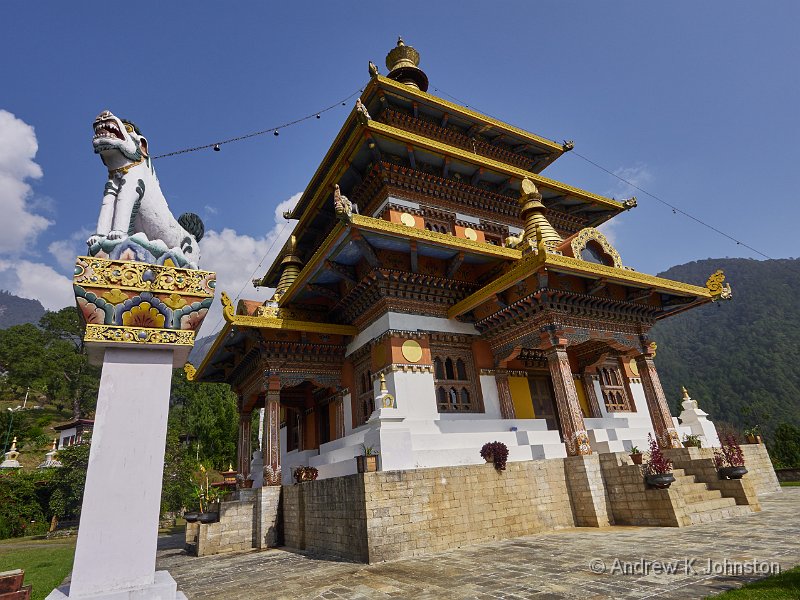 Camera: Panasonic DMC-GX8 | Date: 18-11-2015 11:21 | Resolution: 5104 x 3828 | ISO: 200 | Exp. bias: -33/100 EV | Exp. Time: 1/1000s | Aperture: 7.1 | Focal Length: 9.0mm | Lens: OLYMPUS M.9-18mm F4.0-5.6
After a very meagre breakfast (breakfasts are getting steadily worse while the other meals may be improving slightly), we have a short drive and then start off by walking up to a temple which nestles on a hilltop below some larger mountains. The temple is the relatively new Kahmsum Chorten, which is dedicated to a Buddhist tantric guru portrayed as a monster simultaneously killing multiple evil spirits with daggers, and also enjoying sexual congress with his female half! Busy chap…
It's unfortunate you can't take pictures inside the temple, as the decoration is truly wonderful. However you can get up to the roof, and take pictures from there, so I get some great panoramas of the valley and the very pretty temple grounds. It's a wonderful location, and I spend a couple of hours there. Interestingly only about 5 of the group go up the whole way – the rest stay down in the fields and take pictures of farmers. I don't know whether that pattern is going to repeat.
We have another sit-down outdoor lunch, complete with little marquees and a "restroom tent". The shrapnel chicken has been rendered completely inedible for westerners by the addition of significant quantities of chillies. However when we are finished it's enthusiastically demolished by the Bhutanese staff. I suspect a conspiracy.
After lunch we move to the local Dzong, which is very impressive. Some more great photo opportunities, but a bit hard on my knees after the morning. When they shut up at 5pm they switch on floodlights and we take photos from the other side of the river.
Punakha is in the high twenties, and I spend most of the day in a T-shirt with slight trepidation about being too hot when I have to put on long sleeves for the Dzong. I invested in some very expensive waterproof Paramo trousers for the trip, and so far they, and the other cold/wet gear may be going back unused!