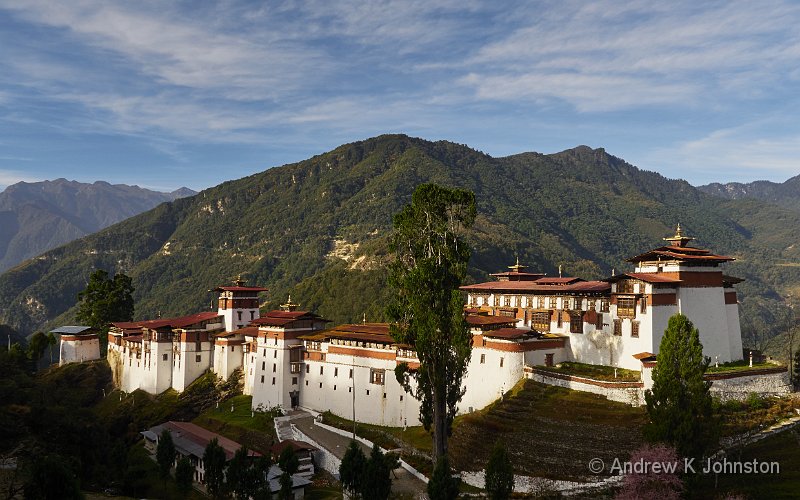 Camera: Panasonic DMC-GX8 | Date: 22-11-2015 08:29 | Resolution: 4961 x 3101 | ISO: 200 | Exp. bias: -33/100 EV | Exp. Time: 1/125s | Aperture: 8.0 | Focal Length: 14.0mm | Lens: LUMIX G VARIO 12-35/F2.8
We have a 4.30 start for the long drive back to Punakha. I grumble a bit but this turns out to be a good call and our misty and cold but unaccompanied drive to Tsonga completes in an hour less than in the other direction on Friday.
After coffee we get an hour to wander around the Tsonga Dzhong, and then back on the road. If anything the next stage of the journey is rougher than on the way down and we suspect that the bus may have lost a shock absorber, but we make good time, including photoshoot of a troupe of cooperative macaques sitting at the roadside. However it's still almost 6 when we finally get to the hotel in Wangdue, Punakha. We arrive with the hotel in darkness, but power is restored quite quickly.
The rest of the drive after that was very tiring, and we've arrived at a hotel which has no desks in the rooms and almost no Wifi cover. However I get an excellent night's sleep, probably aided by an extra Druk 11,000 (the local beer).